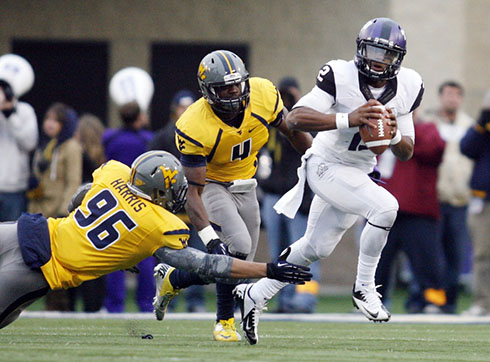 MORGANTOWN, W.Va. — Suspended defensive lineman Korey Harris, arrested Friday on charges of first-degree armed robbery, is no longer with the West Virginia football team.
While the university had not publicly confirmed Harris' dismissal from the team, WVU football sports information director Mike Montoro informed MetroNews, "We have no comment on individuals who aren't with the West Virginia football program."
By Friday evening the sophomore's bio had been removed from the roster on the WVU website.
The armed robbery allegedly occurred in Morgantown during the early morning hours of July 12, when police said Harris and two others entered a Sturgis Street home and held two residents at gunpoint.
A relative said one of the victims recognized Harris, who was wearing his WVU-issued sweatpants with the No. 96 on them. That victim reportedly told police all three intruders were armed.
WBOY-TV reported Harris was being held on $75,000 bail at the North Central Regional Jail on Friday afternoon, but a booking officer told MetroNews the jail had no record of Harris being in custody there.
In April, head coach Dana Holgorsen announced Harris was suspended from the team for spring semester. A three-star prospect out of St. Augustine, Fla., Harris played in 11 games as a freshman, making four tackles.