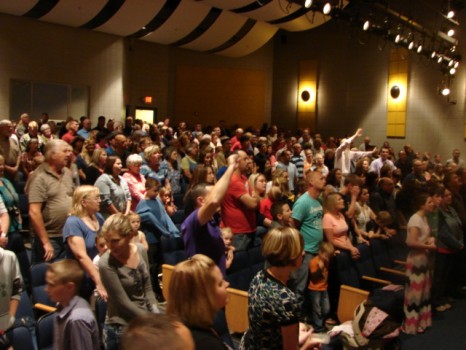 CLAY, W.Va. — A community came together Wednesday night to pray for healing and comfort following a devastating pickup truck crash in Clay County.
A countywide church service was held at the Clay County High School to pray for the 11 victims in last week's crash that killed 17-year-old Kara Conley. The auditorium was filled for the prayer service.
"I'm just glad to see the community coming together and supporting all that stuff," said Clay resident Daniel Grose. "The death of Kara, I mean, I feel so bad about her."
Grose's grandson owned the pickup that crashed through a guardrail and hit a tree last Wednesday morning. Conley and five other teens were riding in the back of the truck at the time. Six others were riding in the cab.
"The good Lord was watching over all of them, but unfortunately he had to take Kara home," said Grose. "I'm just glad everyone else is hanging together on this."
That is exactly what the community did Wednesday night as very few seats were left open during the service.
Clay County High principal Melinda Isaacs said it has been a difficult 18 months for the area.
"We lost a student of Clay High School on March of 2012, Dillon Dawson, then shortly thereafter in September we lost our troopers Eric Workman and Marshall Bailey, and then just this past week a wreck including 10 of our students and one unfortunately passed away," said Isaacs.
"Clay folks are very loving, they look out for each other and they care for one another in the good times and bad," she said.
Grose said he was encouraged by the support shown at the service, but hopes last week's wreck will serve as a lesson to other teenagers so similar incidents don't happen in the future.