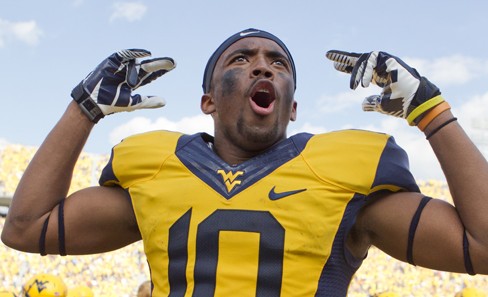 MORGANTOWN, W.Va. — As West Virginia's football team swelled with pride and enjoyed feeling relevant again, two of Saturday's main contributors punched holes in the euphoric aftermath.
"We just beat the No. 11 team in the nation and we didn't play our best game at all," said quarterback Clint Trickett.
What tempered his elation after the 30-21 upset of Big 12 preseason favorite Oklahoma State? Maybe it was WVU's six three-and-outs, or the realization Trickett's offense compiled the same number of turnovers (two) as it did touchdowns.
Senior safety Darwin Cook—only minutes removed from his game-clinching interception—waxed equally cautious about the day's accomplishment.
"I'm really not that excited," he said, "because there's so much more to accomplish. We're only what, 3-2?"
Against the backdrop of that buzzkill, here's a unit-by-unit review of how the Mountaineers reached 3-2 and remade themselves into a team that's no longer a gimme:
QUARTERBACK
Though Dana Holgorsen prefers his quarterbacks make quick strikes from within the pocket, Clint Trickett's scrambling improvisation helped jar WVU out of its slump. Finishing 24-of-50, his completion percentage suffered because of an insistence on throwing downfield (and three drops). The result was 309 passing yards, one touchdown, two interceptions and a huge upset.
Though Oklahoma State netted only one sack, its pass rushers flattened, crunched and even punched Trickett throughout the afternoon. Emmanuel Ogbah, flagged for a late-hit jab in the first half, did more damage with a clean lick in the fourth quarter that drove the quarterback's shoulder into the turf. Trickett missed one play, received a quick "evaluation" in the locker room during OSU's possession, and returned to complete 6-of-8 passes.
"He's a tough kid," said offensive coordinator Shannon Dawson. "His mindset always was 'I'm playing.' He's fine."
The question for the coming week will involve how "fine" and how Trickett's pitching arm responds.
Ford Childress's availability for the near-term remains questionable. The redshirt freshman, according to Dawson, dealt with a strained pectoral for more than a week leading up to the Maryland game, then tore the muscle early in Baltimore but didn't tell coaches. "The kid's got an indented pec," Dawson said. "He's got a muscle that's missing."
RUNNING BACKS
Many of the 60 yards Charles Sims amassed on 18 carries were attributable to individual effort. He also was a factor receiving, with a team-high 82 yards on five catches. Most of those were of the quick-pitch variety, though Sims also hauled in a 38-yarder on the sideline between two defenders. (After making only four catches in the first three games, Sims has 13 the past two weeks.)
Dreamius Smith was limited with 5 yards on 10 carries, and Wendell Smallwood was downright invisible with only one rushing attempt. Despite WVU running a season-high 90 plays, the three-back rotation wasn't in effect.
Fullback/tight end Cody Clay continued his emergence as an underneath receiver by gaining 27 yards on three catches—all resulting in first downs.
RECEIVERS
Rebounding from a one-catch day at Maryland, this unit made 17 receptions—highlighted by Kevin White's first WVU touchdown. But in keeping with this season's theme, West Virginia's receivers continued to underwhelm.
With Trickett willing to unleash deep passes, the trio of Ronald Carswell, Ivan McCartney and White failed to make adjustments on deep balls, leading to two downfield interceptions. Carswell caught a 44-yarder behind safety Lyndell Johnson but missed out on another potential big gainer by keeping his hands waist-high as cornerback Kevin Peterson broke up the pass. WVU needs its receivers attacking the ball at the highest possible point. (Daikiel Shorts climbed the ladder on a sideline incompletion and wound up drawing an interference flag on Cowboys safety Shamiel Gary.)
McCartney let a would-be 35-yard touchdown slip through his hands at the goal-line and later left with a reported head injury. KJ Myers also had a deep pass elude him after tangling with a defensive back.
Carswell finished with five catches for 76 yards, while Shorts made five for 32 yards. Slot receiver Mario Alford got banged hard on a 40-yard sideline catch and subsequently departed with a shoulder injury. White's lone catch was his 17-yard score on a slant route against OSU's top corner Justin Gilbert, though White also caught a punch under the chin late in the game resulting in Gilbert's ejection.
With three catches (for 30 yards), Jordan Thompson tripled his production from the first four games. He set up a crucial fourth-quarter field goal with a sprawling 17-yard grab on third down.
"How about Squirt? He finally made a play," cracked offensive coordinator Shannon Dawson, breaking the staff's unofficial vow of silence on the 5-foot-7 sophomore, thus far known more for his spring game exploits than delivering in the fall.
OFFENSIVE LINE
Even an upset victory couldn't conceal another spotty performance by the offensive line. West Virginia won't win many football games—let alone knock off many Top 25 teams—averaging 1.7 yards per carry. Breakdowns in pass protection led Trickett to run seven times, none of those by design.
Still, the coaches probably saw enough positives to stick with the shuffled lineup of Quinton Spain at left guard and fifth-year senior Nick Kindler at left tackle. Redshirt freshman Adam Pankey, recovered from spring ACL surgery, saw his first playing time as Kindler's backup and would have surrendered a sack if not for Spain peeling back to bump off an edge rusher.
Curtis Feigt had a holding call that OSU declined, and Pat Eger made his weekly errant snap, a function of the senior still getting acclimated to center.
"We moved some guys around," said Trickett, "and I think we've got the right fit now."
DEFENSIVE LINE
Nose guards don't typically burst into the backfield and then make a tackle 22 yards downfield, but that's what Shaq Rowell did on a second-quarter run by Desmond Roland. It speaks to Rowell's conditioning and effort on a six-tackle day that included 1.5 TFLs.
"I was tired of everybody, including y'all (the media), predicting us to lose," Rowell said. "We deserved that, though. But if we come together, we can win plenty more games."
Defensive end Will Clarke has become a load on the edge, compromising the backfield so frequently he might unofficially lead the nation in missed sacks. "The last three weeks he has really turned it on," said defensive line coach Erik Slaughter.
While Clarke made six tackles and forced a holding call, opposite end Dontrill Hyman made the game's biggest tackle with OSU trying to punch in the go-ahead score in the fourth quarter. Hyman shot past Cowboys guard Daniel Koenig to drop Jeremy Smith for a 5-yard loss on third-and-goal from the 1.
"That play on the goal line down there was unbelievable—it changed the game," Slaughter said.
Kyle Rose (four tackles) played more nose guard with Christian Brown sidelined for this week. The only apparent in-game injury involved Eric Kinsey. Back at defensive end and tackle after spending parts of the past two weeks at Buck linebacker, Kinsey was on crutches after the game with his ankle wrapped.
LINEBACKERS
Oklahoma State left its running game in Stillwater, averaging just 2.8 yards per carry. Smith netted 1 yard—just one—on 15 carries.
"We have to run the football. That's certainly not enough for us," said Cowboys coach Mike Gundy, who credited WVU's defense with showing better gap responsibility this season.
Because Nick Kwiatkoski wasn't dressed, Jared Barber (nine tackles, one TFL) and Doug Rigg (four tackles, one hurry, one pass breakup) played the bulk of the 87 defensive snaps at the inside linebacker spots. The middle men were solid, though Barber left fullback Jeremy Seaton uncovered on a 30-yard toiuchdown.
Brandon Golson sacked J.W. Walsh on OSU's opening series, later added another TFL and was credited with forcing Smith's fumble that Isaiah Bruce recovered. (With four forced fumbles, Golson is more than halfway to the single-season record of seven established by Grant Wiley in 2003). In a strange reprisal of the Georgia State game, Golson left temporarily with an awkward-looking knee injury after a clip sent teammate KJ Dillon sprawling into him.
True freshman Marvin Gross, having shifted from Spur to the Buck, made two stops and a third-down quarterback pressure.
SECONDARY
West Virginia's first defensive touchdown of the season changed the timbre of the game. Icky Banks ran back an interception 58 yards to tie the score at 7-all, re-energizing the stadium.
As Banks' first career interception turned the flow in the first quarter, Darwin Cook's sixth career pick sealed the win in the final four minutes.
OSU's Walsh was only 20-of-47 passing, but threw for 322 yards and three touchdowns. If not for a dropped pass, he also should have had a 60-yard hook-up with Jhajuan Seals, who had beaten Banks.
Cook missed a crucial tackle on Josh Stewart's 73-yard screen-turned-touchdown, but made amends with a first-and-goal stuff on Smith that set the stage for WVU's defensive stand. The senior made eight tackles with a pass breakup.
Cornerback Travis Bell was flagged for a face-mask that cost WVU a three-and-out, but he also played a role in the goal-line stand—batting away a fade route to Tracy Moore on second-and-goal.
SPECIAL TEAMS
Through five games, two components are reliable on weekly basis: Nick O'Toole punting the hell out of the football and WVU's returners struggling like hell to catch it.
Carswell bobbled two bouncing kickoffs and ran laterally on the second-half kickoff before being dropped at his own 3. (Sims and Wendell Smallwood were back deep on the next return.) Carswell and Thompson combined for minus-5 yards on three punt returns, and Thompson fair caught another at the WVU 3, leading to a chewing from Lonnie Galloway and a priceless sideline shot of Joe DeForest.
O'Toole averaged 44.6 yards on eight punts, which included a 30-yarder he stuck at the OSU 9.
Josh Lambert's three field goals included a 45-yard do-over after he boinked the original try but was saved by a sideline timeout. (WVU needed the timeout because a protector was late running onto the field.) The redshirt freshman made two critical fourth-quarter tries from 27 and 34 as West Virginia sought to hang on, but Lambert also was wide right from fro 34 and had a 50-yarder deflected.
WVU's coverage units generally contained Fields, until a 36-yard punt runback in the fourth quarter.
COACHING
The offense, to borrow a Holgorsenism, "resembled football" again, and the defense was opportunistic and resilient. The week, from upbeat practices to a stunning upset, represented an emotional bounce-back for a team reeling after the Maryland embarrassment.