MORGANTOWN, W.Va. — In a moment that was equal parts Mel Kiper and Mel Brooks, West Virginia coach Dana Holgorsen deadpanned this week that Texas Tech tight end Jace Amaro clearly should declare for the NFL draft after this season.
Apparently, Amaro's teammates sense the same. On Wednesday receiver Bradley Marquez left a hand-jotted note on Amaro's windshield that read: "Going to miss you bro. 7 more games" (It closed with a frowny face.)
Amaro promptly tweeted a reply that must have simultaneously thrilled Marquez and chagrined Holgorsen: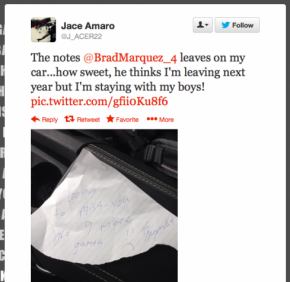 "He thinks I'm leaving next year I'm staying with my boys!"
Last season's WVU-Texas Tech game was less than two minutes old when Amaro burst free for a 39-yard touchdown catch, jumpstarting the Red Raiders to a 49-14 runaway. Amaro later sprang loose on a 61-yard catch-and-run that showed mobility far exceeding a typical tight end. He finished the day with five catches for 156 yards, a performance that actually was cut short in the third quarter when Amaro suffered internal bleeding from a hit to the midsection by linebacker Terence Garvin.
That hit—which Big 12 referees subsequently identified as targeting during offseason evaluations—sidelined Amaro for six games. But the 6-foot-5, 260-pound tight end has recovered to post prolific numbers as a junior, leading the conference in receptions (47) and ranking seventh nationally. There's not another tight end among the top 90 pass-catchers in the FBS.
"Every time I've gone one-on-one, nobody's been able to guard me," said Amaro, whose 101 receiving yards per game rank third in the Big 12 and 20th nationally.
"He creates a tremendous amount of mismatches," Holgorsen said. "We saw it up-close and personal last year."
The weapon WVU couldn't defend last year looks to be even more dangerous now, after Amaro reportedly lowered his body fat from 14 to 6 percent in the offseason and emphasized better route-running.
"I don't know how you stop him," Holgorsen said. "You try to double-cover him and it opens things up for other pretty good skill guys."
Credit Tommy Tuberville's staff for recruiting the four-star prospect to Lubbock, but credit new coach Kliff Kingsbury's system for truly unleashing Amaro. No longer lined up as a conventional tight end who caught most of his passes off play-action, Amaro finds himself being utilized in the slot and often times split even wider.
"He looks like their main target," said West Virginia defensive coordinator Keith Patterson. "He bodies up on you, so even though you have good position he's able to go up over the top of you and catch the ball.
"He can stretch you vertically … and there's his ability to create space for himself. Then once he does catch it, the challenge is getting him on the ground."
Though spread attacks have diminished the need for tight ends, Amaro's combination of size and athleticism gives him crossover skills. Along with being the top receiving threat, his blocking has been stellar on screens and perimeter runs.
Could fans in Morgantown be witnessing the next Jimmy Graham or Rob Gronkowski?
"He's big, he can run and he can block," said Mountaineers cornerback Icky Banks. "That looks like a prototype NFL tight end to me. He's going to the League for sure."
Holgorsen and West Virginia's defenders just hope Amaro goes there sooner rather than later.
DOWNPLAYING REVENGE
A self-described hothead in seasons past—Amaro was ejected for throwing a punch against Minnesota in last year's Meineke Care Care Bowl—he claims to have reined in his hostility after an offseason of introspection.
To that end, he said "there is no revenge or anything like that for me" entering the West Virginia game.
Still, the difficulty in diagnosing his torso injury made sitting out the second half of the 2012 season difficult.
"The first doctor told me I was going to be out for two weeks—I was pretty pissed about that," Amaro said. "The next guy said four, the next guy said six, and the last one told me three months.  So it was kind of a thing where I didn't want to talk to anybody for a while. It was really frustrating."