CHARLESTON, W.Va — The final eight teams in each class get their shot to cut down the nets in Charleston as the state tournament officially gets underway on Wednesday. Looking at all three brackets, there are some familiar teams back in the Capitol city, as well as teams who haven't been in a while, so the mixture should make for an exciting week.
In Class AAA, No. 1 Parkersburg South (23-0) looks to complete defense of its title from a year ago. The Patriots bring a 28-game win streak to the tournament and have plenty of experience returning from last year's team.
"We lost Miranda Workman, our center (from last year), but everyone else is back, so hopefully we can pull it off again," Parkersburg South coach Scott Stephens said.
South will take on No. 8 Hampshire (12-11) in the quarterfinals on Wednesday. Greenbrier East (23-1) comes in as the No. 2 seed and will take on No. 7 Cabell Midland (18-6), which knocked off a very good Spring Valley team in sectional play. The Spartans, meanwhile, are looking for their second title in the last three years after winning the championship in 2012.
No. 3 Huntington (21-4) will play the No. 6 Mohigans from Morgantown, which may end up being one of the most intriguing quarterfinal match-ups. Morgantown (15-8) has played Parkersburg South close in two games this year as the Mohigans hope to ride their defense in the tournament.
"I think we're one of the best defensive teams in the state, we average giving up 40 a game," Morgantown coach Jason White said. "We play a lot of man-to-man and mix some zone in, we have kids who can execute a defensive game plan."
The classic 4-5 matchup features South Charleston and Martinsburg (19-4), who will meet on Thursday morning. The Black Eagles (20-3), who have played 15 games away from home, will be battle-tested coming into tournament action.
More: Complete girls basketball state tournament schedule
"It's total preparation for us, we don't take anyone lightly, because there's been upset after upset this year," South Charleston coach Gary Greene said. "The fact that we were on the road so much, we're going to go down there to see what kind of run we can make at it."
In Class AA this year there will be a new champion as Bridgeport was ousted in sectional play. Fairmont Senior (20-1) comes in as the No. 1 seed as the Polar Bears returned all but two players from a team that advance to the semifinals a year ago.
"I think this year's group is a little more close knit, they went through the struggles together and supported each other a little more than last year's group," Polar Bears head coach Corey Hines said.
Fairmont Senior will face No. 8 Grafton (17-4) on Wednesday at 5:30 p.m. in the quarterfinals.
No. 2 Westside (18-3), who lost to Bridgeport in the state title game last year, will look to not only get back to the championship game, but ultimately win it all like they did in 2012. The Renegades open up against No. 7 Scott (18-5) at 1:00 p.m. on Wednesday in the quarterfinals.
"Our girls are very experienced, they've been here before and we've played six games down here in the last two years," Westside coach Jamie Lusk said. "They've been focused and we're excited to be back down here."
No. 3 North Marion (20-3) returns to Charleston in hopes of having the same success as they have had in years past. The Lady Huskies brought home three straight titles in Class AAA (2009, 2010 and 2011) before eventually moving down a class last year. North Marion opens up against a dangerous No. 6 Keyser team which made it to Charleston with an impressive 23-2 record.
Summers County (20-3) returns to Charleston after getting upset in regional play a year ago. The Lady Bobcats, who recently took home five straight Class AA crowns from 2007-2011 will face No. 5 Sissonville (21-3) at 9:00 p.m. on Wednesday night.
On to Class A, where St. Joseph Central is going for its sixth straight title. Shannon Lewis' squad is the odds-on favorite to do it again as the Irish come in 20-3 after taking on upper echelon opponents.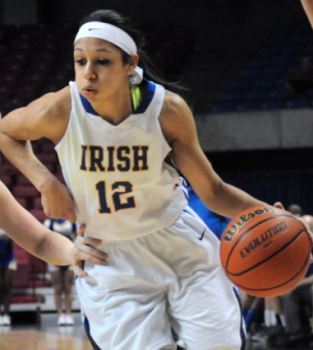 "It's been a real good season, we played a national schedule and have had a lot of success and pushed our kids hard," Lewis said. "We've been a little rusty through the postseason, so we're trying to work to get the rust out."
The Irish open up against No. 8 Tug Valley (8-12) on Thursday at 5:30 p.m. in the quarterfinals.
No. 2 St. Marys (22-1), which has lost to St. Joseph Central three of the last four years in the title game, will try to be the first public school to win a Class A title since 2003. The Blue Devils will face No. 7 Fayetteville (16-7) at 1:00 p.m. on Thursday.
No. 3 Tucker County will look to build off of its semifinal appearance from a year ago as the Mountain Lions take on No. 6 Pocahontas County in the early game on Thursday. Tucker County took care of Pendleton County 66-39 to advance out of regional play, while the Warriors ousted Notre Dame 70-43 in its regional.
The 4-5 game in Class A is a classic private school rivalry between No. 4 Wheeling Central (14-10) and No. 5 Charleston Catholic (19-6). Wheeling Central swept the season series with a pair of close wins against the Irish.