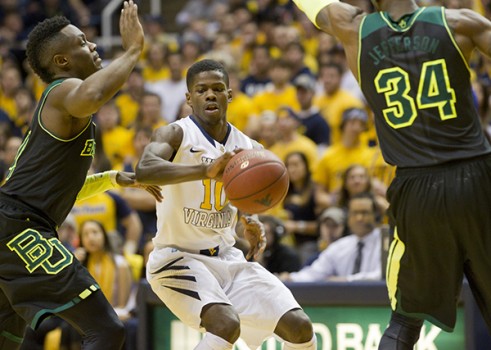 Eron Harris is headed to East Lansing on Saturday, to the land of Sparty and Izzo, to his second college home.
Some of the disappointed friends he left behind in West Virginia were happy to see him land at a Big Ten powerhouse. Other fans of a less-rational ilk discarded him the moment he took off the Mountaineers jersey, pegging him as disloyal, an inconsistent scorer and a half-hearted defender.
"I don't blame them, because that's where they grew up and that's the school they love and have always supported," Harris told MetroNews on Friday. "Fans have a right to their opinions and you can't change them. But they only see what's on the court, and they don't see the other stuff. They don't know my life."
"I came through (Morgantown) and learned some things. There were some good things that happened to me and some bad things that happened. And I appreciate all the fans that showed me love, I really do." — Eron Harris
After compiling two surprisingly good statistical seasons on two not-so-good teams at West Virginia, Harris transferred out and transferred up, to a program that has hung six Final Fours banners in the past 15 years. The guard didn't have to expound on what led him to leave Morgantown, didn't owe the public an exit interview. But after keeping a low profile during his transfer process, the player whose ruminative postgame reflections gave rise to the nickname "Harristotle" provided some context about what was missing.
"At West Virginia, I just didn't feel like my life was whole," he said. "The basketball part was going pretty well, but I felt stressed in some other areas."
The basketball part is what we see, or at least think we see. Detractors of Bob Huggins given the spate of recent transfers say his style is too abrasive. Lovers of Huggs point to 740 career wins and say thin-skinned players can benefit from hard coaching.
Eron's father Eric Harris told The Detroit News the family respects Huggins but "the coaching style at West Virginia wasn't a match for Eron."
Now the player shifts from one Hall-of-Fame coach to another. Though Tom Izzo may communicate in a slightly different manner, his demands will be no less intense.
"I know Coach Izzo's going to be hard on me, because he told me that himself," Harris said. "And I'm going to give him 100 percent, everything I've got."
Shortly after Harris requested his release from WVU in late March, a flurry of blueblood programs contacted him. Teams like UCLA, Louisville  and Kentucky, teams that didn't give him a sniff when he came out of Indianapolis' Lawrence North High School in 2012.
"I'm pretty sure they all knew who I was, just because I played on some teams with highly recruited players," he said. "But those major programs didn't pay too much attention to me personally. I mean, when I decided to transfer was the first time I got to have a dialogue with Coach Izzo. None of those high majors contacted me back then."
West Virginia only took notice after the insistence of a high school assistant who thought WVU's motion offense matched the system Harris played at Lawrence North. That coach called Mountaineers assistant Larry Harrison and scheduled a morning workout.
"I think I barely missed a shot during that workout, and the next thing you know, Coach Huggs came down to my house and offered a scholarship," Harris said. "It happened just like that. Going to West Virginia was sort of out-of-nowhere."
Just like that, Harris had a high-profile offer, one promising chartered flights and countless more TV appearances than the mid-majors could provide. Though grateful, he had no emotional ties to West Virginia, no sense of the program's history. It was a microwaved courtship not uncommon as college coaches seek to fill roster spots amid the compression of the NCAA recruiting calendar.
The 17.2 points Harris scored last season certainly changed opinions about his skill level. Showing unconscionable range at times, he became the Big 12's fourth-leading scorer, though curiously the coaches didn't vote him to the all-conference first, second or even third team.
"I know Coach Izzo's going to be hard on me, because he told me that himself. And I'm going to give him 100 percent, everything I've got." — Harris on signing with Michigan State
Even with elite teams pursuing him recently, Harris realizes his game is lightyears from complete. Just as in high school, he carries no delusions about success falling in his lap. He dreams of an NBA career and knows the dream won't materialize without diligence, production and luck. Before he plays one game for Michigan State, he must sit out next season, spending a year in anonymity that could prove pivotal.
"I want to put on a solid 10 pounds, stay consistent with my jumper, improve my ballhandling and become a better defender," Harris said. "I'm really just another guy who's trying to get better—trying to better myself in basketball and in life."
When Harris left, with his best two years presumably in front of him, West Virginia and Huggins lost a valuable player. If there's a silver-lining spin to his exit, it's that the staff can develop a little-known prospect into one of the country's most sought-after transfer.
Harris wasn't about to spew criticism at Huggins, or even at the fans who tweeted "quitter." He categorized his two-year stay at West Virginia as an enlightening and beneficial experience, just not one he wanted to represent his whole college experience.
"I came through there and learned some things. There were some good things that happened to me and some bad things that happened," Harris said. "And I appreciate all the fans that showed me love, I really do."