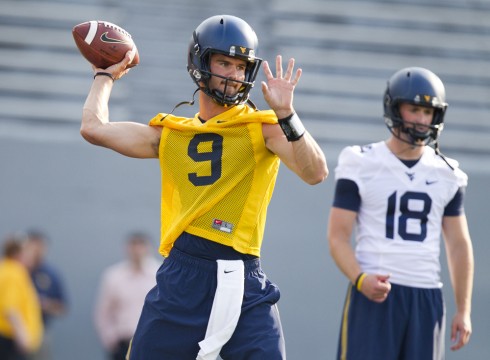 MORGANTOWN, W.Va. — It didn't take a village to make Clint Trickett whole again, just three wise men: Dr. James Andrews, Chris Weinke and Dana Holgorsen. Each had a balancing stake in the mind-body-soul reboot that returned the West Virginia quarterback to the field so that he could be, well, West Virginia's quarterback.
Andrews, now 41 years and approximately 48,000 surgeries into reassembling athletes, repaired Trickett's AC joint, labrum and rotator cuff on Jan. 13—injuries that dated back to Sept. 28 and rendered Trickett spaghetti-armed throughout his final six starts.
The rehab, so cautious and maddeningly measured, required weeks before Trickett was allowed to lift even a light weight above his shoulder, much less resume throwing. After sitting out spring practice, he was cleared in May to begin soft-tossing 20 to 25 passes a day.
"It was a long offseason," Trickett recalled Tuesday. "You're thinking, 'Man, am I going to play? Am I going to be normal again?'"
His first month of throwing wasn't normal or encouraging. The shoulder was functioning but his mechanics were unraveling. So off went Trickett to Bradenton, Fla., to work under Weinke's watch at the IMG Academy. It only took a few hours for the two ex-Florida State quarterbacks to spot a flaw.
"There was one major thing Chris saw," Trickett said. "My back foot was so far outside the framework of my body that I had no leg power. It was all shoulder and all arm. And the ball was all over the place."
With his footwork rectified, Trickett's arm angle improved. Almost instantly he noticed his passes gaining steam: "There was so much more velocity and zip on the ball and less pressure on my arm."
WVU's 2013 preseason quarterback competition "kind of ate me up from the inside," Trickett admitted. He lost his appetite and found sleeping difficult as he wondered, 'Well, crap, did I screw it up today?'"
Once back in Morgantown for 7-on-7 sessions, the receivers saw new life on Trickett's throws and the senior saw himself becoming physically sound. "For me to go out there and actually have positive results was just a huge relief."
On June 24, Holgorsen provided even more relief—naming Trickett the starter.
In the six weeks since, Trickett has seized Holgorsen's mandate and blossomed. No longer concerned about winning the job, he has focused on winning over teammates. Coaches can harp on the benefits of camp competition, but in no way does Trickett miss the preseason quarterback duel he endured in 2013.
"Absolutely not," he said. "I care so much about it that it kind of ate me up from the inside, literally, especially with my celiac disease and everything. It took a toll on me."
Returning last year to the town where he spent much of his youth, and welcomed by expectations that he immediately would become Air Raid's next 4,000-yard passer, Trickett tormented himself with worry. He struggled to sleep, lost his appetite and began dropping weight from his already-spindly 175-pound frame.
"You're just worrying, 'Well, crap, did I screw it up today?'" he said. "Now, not to have that in the back of your mind is definitely helping me. I'm actually gaining weight."
While Trickett said he still needs "to shake off" a twinge after deep throws, he no longer relies on the pain medication that he needed to tolerate the second half of last season.
"Now, I'm just playing without anything," he said. "(The shoulder) feels fine. It's awesome."