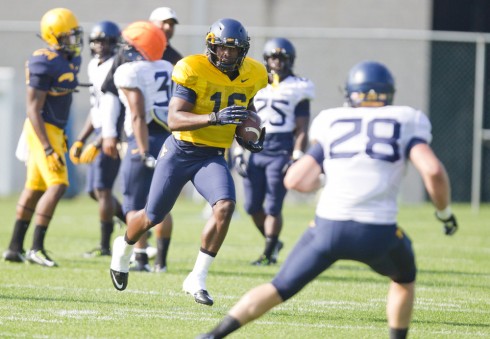 MORGANTOWN, W.Va. — William Crest used to catch practice punts at Dunbar High to stay active. Whether he actually gets the chance to return punts at West Virginia has become an intriguing topic of preseason camp.
Dana Holgorsen joked Thursday that he sent Crest with the punt returners just "to mess with you guys" in the media, but it actually was Crest himself who joined the special-teamers during down moments.
When Holgorsen noticed the four-star quarterback fielding punts at West Virginia's first practice, the  coach said, "I'll be darned if he didn't look pretty good."
So the experiment continues, though it is an experiment dependent upon many factors—including Crest's development at quarterback, his potential for a redshirt, and the performance of other returners like Mario Alford and Jordan Thompson.
Special-teams coach Joe DeForest also tried comic diversion when asked about how Crest's reps at punt returner correlate to his status under center.
"That's above my pay grade," he said.
Yet amid the winks, nudges and vagueries, DeForest rationalized why deploying Crest on punt returns isn't a complete waste of precious practice minutes:
"Anytime you can get the ball in the hands of one of your better athletes, why not? Why not take advantage of all the weapons have?"
Holgorsen took the Crest hypothetical a step further:
"Would it be an option if he was the best (punt returner)? Absolutely. Now if he was our starting, every-down quarterback right now, that would be pretty silly."
At the risk of being extremely silly and trying to read between the lines, perhaps this whole episode reveals Crest isn't a candidate to win the backup quarterback job behind Clint Trickett. Perhaps Paul Millard's senior-level grasp of the offense outweighs the obvious physical advantages Crest brings. Maybe Holgorsen and offensive coordinator Shannon Dawson think the freshman is a couple months away from any point of game-readiness. Maybe they're already committed to redshirting Crest and see no harm in an athletic exercise for a visibly athletic quarterback.
DeForest emphasized a mental perk—that returning punts presents a "fear factor" similar to a quarterback feeling a blind-side blitzer. Aside from that, hauling in Nick O'Toole's high-hanging kicks can only help with Crest's hand-eye coordination.
"Ball skills for a quarterback is important," Holgorsen said, "just try catching snaps from Pat Eger."