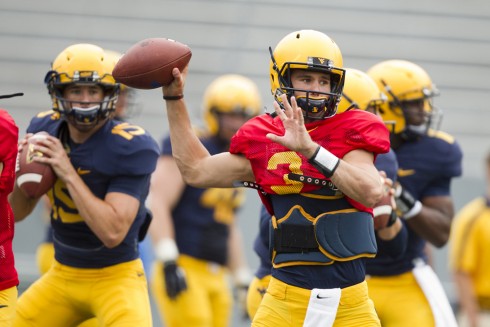 MORGANTOWN, W.Va. — Though it flies in the face mask of conventional coaching wisdom, sometimes Shannon Dawson likes to be stunned by a quarterback's decision.
He takes it as a sign of advanced comprehension.
"Every time we've been good on offense in the past, there were decisions made by quarterbacks that really weren't even in the read," Dawson said. West Virginia's offensive coordinator would find himself asking "How the hell did the ball go there?" and his quarterback would explain "Well, this (defender) was doing this and that guy was doing this, so I threw it to him."
Arming quarterbacks with such liberty makes the Air Raid instantly adaptable. It requires significant trust and a permissiveness that didn't exist in college coaching before spread offenses changed play-calling.
"Anywhere a defense is flawed, you're taking advantage of it," Dawson said. "That's better than seeing it later on tape and thinking, 'Damn, I wish we could've done that.'"
Of course, the laxity to exploit defenses only pays off if the quarterback is comfortable with the layers of his own offense, and 2013 was anything but comfortable for Clint Trickett. His puzzled stares at the sideline had Dana Holgorsen repeating signals and repeatedly committing headset assault.
For Trickett, parlaying three years of development under Jimbo Fisher proved to be no help under Dana Holgorsen. He couldn't operate the offense at its intended tempo, couldn't communicate pre-snap adjustments to receivers, couldn't unlock many of the options that made Air Raid functional at its core.
"It was two completely different mindsets," Trickett said. "Going from Jimbo's offense to this offense was at complete opposite ends of the spectrum. Like Jimbo, when he calls that play he wants that play. Here, when (Holgorsen) calls this play, if that's not a good play you can change to whatever you want."
"(The receivers) trust me and I've got trust in them. That makes practice fun." — West Virginia quarterback Clint Trickett
A year later, and with one year left to make good on his return to West Virginia, Trickett zips through camp clear-headed and fully initiated. It's apparent in the way he quick-pitches the ball against pressure—something Dawson admits "he was horrible at last year." It's noticeable in how unnoticeable his signals have become, subtle hand-waving and finger twitches that alert receivers without making it obvious to the defense.
The frustrated, self-doubting Trickett of last year has evolved, bringing along a crew of returning receivers who seem to be rising at the same efficiency. From the remedial moments of 2013, Trickett contends the offense is reaching "level 400 stuff, very advanced stuff," that makes practice a daily exercise in seeing how high it can elevate.
"We're so tight," he said, "we're checking things at the line of scrimmage that only me and the receivers know about. The coaches aren't even aware."
And based upon Air Raid precedent, those are the type of surprises Dawson expects.