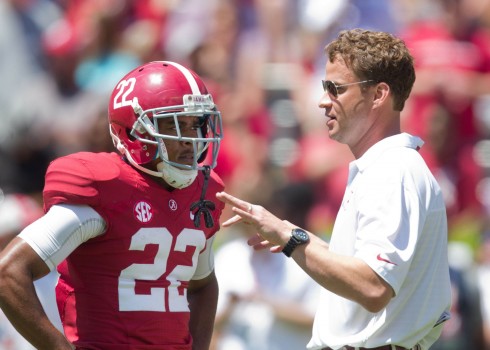 MORGANTOWN, W.Va. — During a lengthy chat with reporters after a lengthy end-of-camp scrimmage, Tony Gibson was asked about matching up against Lane Kiffin.
"Who?" he joked.
West Virginia's first-time defensive coordinator fully comprehends he's nowhere near recognizable as The Lane Train. Gibson hasn't head coached the Oakland Raiders, Tennessee Vols and USC Trojans—and then again, neither has he been canned by Al Davis, panned in Knoxville or asked to step off the bus by Pat Haden.
So unlike Kiffin being hired at Alabama, Gibson wasn't featured on SportsCenter upon becoming WVU's coordinator. And such relative anonymity doesn't rattle Gibson one bit. He'd much rather his defense make SportsCenter by slowing down the Crimson Tide on Aug. 30.
Can that happen, though? Can a West Virginia defense that ranked outside the FBS top-100 each of the past two seasons show its grown-up side in its first game under a new leader? What's more, how can a 3-3-5 defense designed to combat the Big 12's spread offenses hold up against Alabama's pro-style sets?
Well, the second question first.
Gibson believes nothing stresses a defense more than the breath-stealing tempo attacks WVU will face throughout the season. That's why the Mountaineers are deploying five defensive backs to become more athletic and sprinting through scrimmage periods at breakneck speeds. So from a purely schematic perspective, it's easier to teach a defense to play fast and then—against a huddling team like Alabama—essentially play slow.
Facing Alabama's conventional offense is almost like a breather, from the standpoint of pace, that is. From the standpoint of talent, it's nothing like a breather.
The Tide's offensive line—even after replacing two starters—features two five-star prospects and seven four-star recruits in the two-deep. It's running backs include a five-star recruit who produced back-to-back 1,000-yard seasons (T.J. Yeldon), a four-star speedster who has a career average 7.3 yard per carry (Kenyan Drake) and the nation's all-time high school rushing leader who gained 161 yards against Oklahoma on nine touches (Derrick Henry).
Oh, and this run-heavy Alabama team? It ranked seventh nationally in passing efficiency last season and has six wide receiver recruits who ranked among the top 10 nationally at their position coming out of high school.
So Kiffin possesses a lot of tools, and Gibson must be prepared for whatever manner Kiffin chooses to use them.
Rewind to 2005 and 2006, Kiffin's most recent two seasons as a coordinator, when he had the Southern Cal offense rolling at a clip of 39.8 points and more than 480 yards per game. The Trojans ran 1,869 combined plays—941 rushing and 928 passing—essentially as balanced as an offense can be.
During its past two seasons under offensive coordinator Doug Nussmeir, Alabama also posted stellar averages of 38.4 points 450 yards per game, though it do so while running 1,724 plays—1,031 rushing and 693 passing.
Will Kiffin try to bring the Tide's tendencies closer to center? Will Nick Saban allow him to do so? With running backs like Yeldon, Drake and Henry and two unproven quarterbacks, would Kiffin be silly to even risk a 50-percent pass ratio?
That's the rub for Gibson, who like the rest of the college football world, is curious to see how Kiffin plays with his new toys.