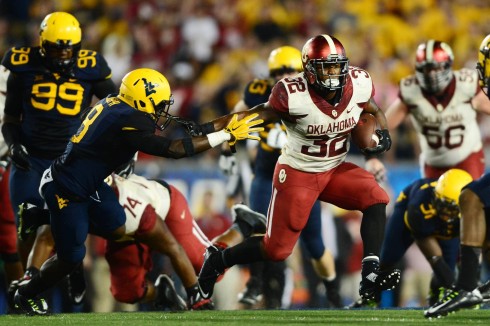 MORGANTOWN, W.Va. — Keith Ford's unlucky injury turned out to be worse luck for West Virginia's defense.
With No. 4 Oklahoma's starting running back sidelined, freshman Samaje Perine delivered 242 rushing yards and four touchdowns to fuel a 45-33 victory.
"You know about how powerful and strong he is, but he also has great vision," said coach Bob Stoops, whose Sooners improved to 63-1 when rushing for 200 yards.
"(Perine) is a good one. He's going to be something to watch." — West Virginia linebacker Wes Tonkery
Stoops said the bruising Perine "had a sensational night," answering the call a week after Ford suffered an injury against Tennessee.
Ford broke his fibula, and Perine broke West Virginia's will. He made 34 carries, two more than the total from his first three college games.
"We were falling off of him," said Mountaineers defensive coordinator Tony Gibson. "He's low to the ground and he's a power runner who's got good speed."
Perine's 2-yard touchdown tied the game at 17-all before he tacked on second-half scores from 5, 9 and 19 yards.
By game's end the 5-11, 243 Perine had gained almost a yard per pound—the most productive night for an opposing running back in the 34-year history of Milan Puskar Stadium. (Syracuse's Joe Morris held the old mark of 194 yards since 1980.)
West Virginia linebacker Wes Tonkery and hard-hitting safety Karl Joseph had Perine sandwiched on a third-quarter run, only to see him barrel through both defenders to put the Sooners ahead to stay, 31-24.
"He's a good one. He's going to be something to watch," said Tonkery. "He's a hard runner—he does what a running back is supposed to."
The four-star recruit from Pflugerville, Texas—who signed with the Sooners in February over offers from Alabama, Nebraska, Arkansas, TCU and Tennessee—didn't expect to be the workhorse.
"Not really," he said. "I thought we would switch it a little more with me and Alex Ross, but I was the hot one and they felt I could get the job done."
Yet Perine and Ross (eight carries for 56 yards) averaged 7 yards per carry, easing the stress on Oklahoma quarterback Trevor Knight.
"They were in an odd defense and it's only a three-man front, so the holes were big," Perine said. "Our offensive line did a great job of staying on their blocks and pushing them down the field."
Gibson suggested Oklahoma's dominant offensive line might yield as many as "three or four NFL guys," and he came away particularly in awe of tackles Daryl Williams and Tyrus Thompson.
"They moved the line of scrimmage. We jumped in Bear, we tried to play our Okie, we were blitzing it and doing all kinds of things to try and stop it and chop the front up. But we couldn't stop the run."