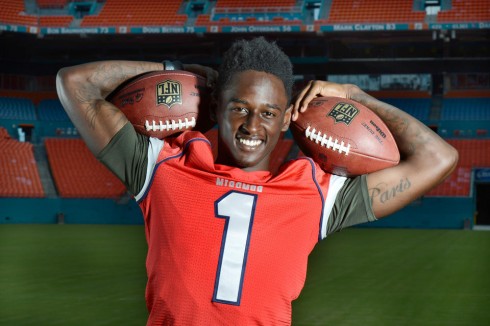 MORGANTOWN, W.Va. — Less than 24 hours after West Virginia flipped four-star recruit Tyrek Cole from his Florida State commitment, the cornerback was suspended indefinitely from his Miramar High School team.
Rivals.com reported the suspension Tuesday, which comes four games into Cole's senior season.
WVSports.com senior writer Keenan Cummings was unsure how the suspension would impact the Mountaineers' recruitment. West Virginia assistant Damon Cogdell was Cole's high school coach at Miramar last season and reportedly understands Cole's background and the context of any potential character issues.
"West Virginia was resilient in recruiting Cole, and he has a lot of ties to the program," Cummings said. "Damon Cogdell is like a father figure to him, and several close friends of his already committed to WVU."
Four of Cole's teammates at Miramar are among West Virginia's 2015 commitments: four-star recruits Kendrell McFadden and Jovan Durante, and three-star prospects Kahlil Lewis and Alex Anderson.
Rivals ranks the 5-foot-11, 162-pound Cole as the 18th-best cornerback in the 2015 class and the No. 159 prospect nationwide. He has been courted by more than 20 FBS programs, including the likes of Alabama, Notre Dame, Florida, Georgia, Clemson and UCLA.
"He's an incredible football player, there's no question," Cumming said.