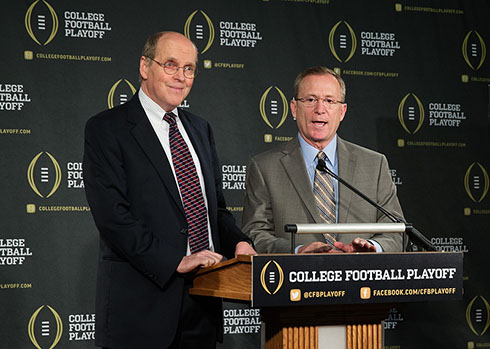 COMMENTARY
MORGANTOWN, W.Va. — The College Playoff Knights Who Say Ni will unveil their first set of rankings Tuesday. It is billed as momentous, historic, a must-see, and who cares that the folks doing the billing are the committee members themselves and the network that's broadcasting the event. (As Lamarr Houston showed us Sunday, there's no wrong time to showboat.)
Because this initial top 25 is non-binding, the committee—much like a five-star recruit who's currently committed to Florida or Michigan—can and should change its mind several times between now and Dec. 7, when the national semifinal pairings become concrete.
And because the list of America's top four teams is sure to oscillate wildly over the next six Saturdays, some question why the selectors are publicly releasing their weekly works-in-progress. After all, this new Star Chamber is modeled after the NCAA basketball committee, which discloses its one and only bracket a mere 48 hours before the madness tips in March.
Because the hoops decision-makers commune and cogitate in private, fans take the debate elsewhere, feeding off an endless array of projections from bracketologists. But college football, as it showed by driving the era of realignment in pursuit of TV millions, prefers to prosper from its own postseason buildup. Why let the Jerry Palms and Joe Lunardis lead the discussion when you've got Condoleeza Rice and Tom Osborne working the dry-erase board in Grapevine, Texas?
College football, which gleefully greets every midseason with a stampede of panic, wasn't about to squander this marketing opportunity. These Tuesday night reveals will pair flamed-up fans with delicious media scrutiny in a cacophony of chaos never to be equaled. At least unit the following week.
If there's one procedural failing of this pioneer football committee, it was the decision not to divulge the votes of individual members. Considering how frequently the word "integrity" has been used to describe each panelist, you'd think a little transparency would be a no-brainer.
Heck, why not a lot of transparency, with ESPN live-streaming the war room each week? These are assertive, driven personalities who zoomed to the tops of their professions. They have commanded teams, conferences and fruitless searches for WMDs, and their contentious deliberations would be pure gold. (Who wouldn't love the segment where Barry Alvarez recuses himself from a Big Ten discussion while remaining members ask how long they have to fake it before inviting him back in.)
If there's a second failing of the committee, it's that the members sport an average age of 61. Unfortunately that hikes the probability of health issues intervening, as we've already seen with Archie Manning stepping away. (He won't be replaced, making him the second Ole Miss quarterback to vanish in crunch time this week.)
But don't fear, SEC Nation. Even with your representative taking medical leave, there's still likely to be three of your teams among the top four tonight. Which means the rest of the country will hiss to the heavens, cry conspiracy and lose its collective mind.
Just like the college football bosses hoped.