The eastern Pennsylvania football field was frozen beneath January snow when a scrawny junior began popping into the coach's office at Emmaus High. Kevin White, a receiver buried on the JV for two seasons, had convinced quarterback Brady Knerr to go outside for passing drills—they only needed their coach to supply a football.
"It was the dead of winter," recalled Joe Bottiglieri. "Kevin said 'I'm going to run routes and Brady's going to throw to me.' I gave him a ball, but the field was covered with snow and ice, so I didn't know how long Kevin would stay outside.
"When I drove home in the afternoon, I could still see him out there catching passes in the snow."
Nearly six years later, the kid running routes through the slush stands four inches taller, leaps infinitely higher, and has a front-row seat in Lake Buena Vista, Fla., for Thursday night's ESPN college football awards show. White is one of three finalists for the Biletnikoff Award.
That's the same sort of dramatic leap he made at Emmaus High, where he didn't start until his senior year, and in junior college where he began as a redshirt, and lastly, at West Virginia, where he didn't appear on the bloated Biletnikoff preseason watch list.
"This is so cool to see a friend of mine go through this growth," said Knerr, now a backup quarterback at D-II Bloomsburg University. He can barely fathom how the undersized kid from his hometown blossomed into one of the NCAA's most physically intimidating offensive weapons. "It's incredible to watch. It's like, where the heck did that come from?"
* * * * *
Coming off a 35-catch junior season at West Virginia, White didn't daydream about a Biletnikoff Award or even an NFL career.
He was so unsure about his future last December that he called his former high school coach and sought advice about lining up a coaching job after college.
"I had to laugh a little," said Bottiglieri, now the defensive coordinator at Lehigh University. "I said, Kevin, we can talk about you get into coaching someday, but I think you're going to be playing more football after West Virginia.
"That's just how he is. He has always impressed other people more than he impressed himself."
After catching 102 passes as a senior and tying an FBS receiving record with seven consecutive 100-yard games, the late-blooming White projects as an NFL first-rounder. At 6-foot-3, broad-shouldered and blessed with a vertical coaches describe as off-the-charts, he may be the best physical specimen at his position in the draft.
"To say you could predict he would become one of the best receivers in the nation? That would be false," said Mark Duda, White's junior college coach at Lackawana College. "But to say he was one of the better athletes to ever walk through the doors here, that's accurate. Every drill he did—the 20-yard shuttle, the 40, the vertical, whatever—you realized he was grossly athletic."
Yet it's character, not athleticism, that makes Duda and Bottiglieri beam about White to the NFL clubs currently researching the player's background.
"They don't want their superstars having red flags," said Duda. "Kevin was flawless back here as far as conduct was concerned. It's wonderful when you can say nice things about a kid that are all true."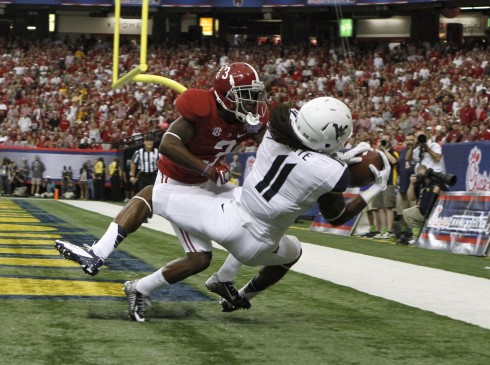 * * * * *
White moved into the Emmaus school district as a 10th-grader, a kid Bottiglieri recalled as "real thin, and maybe 5-10 or 5-11." He joined the JV as a sophomore and barely surfaced on varsity the following year, getting a few snaps on special teams and in mop-up duty.
Then came the extra reps in the snow, and Bottiglier gained a glimmer of White's commitment: "I thought, here's a kid who's going to make himself as good a player as he can possibly be."
White suddenly began showing how good he could be the following season, having grown above 6 feet and filled out considerably. He became an all-district receiver even though Emmaus was only a .500 team.
The season's biggest moment was a 7-6 upset win at Easton.
"We hadn't beaten them at their place in 28 years," said Knerr, who threw a vertical fade route that White turned into a 72-yard touchdown. "He went up and made an absolutely miraculous catch over two people and then ran the final 40 yards down their sideline."
Bottiglieri said White's production suffered late in the season as defenses shifted his way: "Our offense was basically 'go to Kevin, go to Kevin, go to Kevin'—and that's only going to last so long." When the coach nominated White for the prestigious Big 33 all-star game, officials said the receiver was among the top alternates. That dropped White into a second-tier postseason game, where an injured shoulder limited him to one series.
If limited exposure was one detractor to White's recruitment, his grades were another. Bottiglieri said the move to Emmaus from the lower-rated schools in Allentown was "an academic shock" to White, who was adored by his new teachers and counselors but realized too late in the process that his classwork wouldn't qualify for major-college ad.
"He sat in my office and asked me, 'Coach what am I going to do?' I told him there are Division II schools and some D-III schools that will work with you academically. But he said he didn't want to do that—he wanted to go Division I. So I said you need to go to junior college."
The thought of spending two years at a juco program didn't excite White at the time. He wound up spending three there.
* * * * *
Hanging inside Duda's office at Lackawanna College are framed photos, an informal wall-of-fame highlighting ex-players who excelled at four-year schools and the NFL. The newest picture is of White in an all-gold West Virginia uniform.
When the Liberty Bowl commences Dec. 29, White will need eight catches to match the West Virginia single-season mark of 110 shared by Tavon Austin and Stedman Bailey.
"To do what he's done this season, that took Dana Holgorsen, that took Clint Trickett, that took West Virginia being the right fit, that took everybody—and Kevin knows that," Duda said. "But it also took Kevin working hard. Nothing's ever been given to him."
Certainly not at Lackawanna, where White redshirted his first year, due in part to the lingering shoulder injury, registration issues and the simple fact he wasn't ready to contribute. Duda said the decision wasn't negotiable, and in retrospect, proved invaluable to White's development.
"What if last year had been his senior year? Then he probably doesn't get a chance to be an All-American," Duda said. "I think that redshirt year helped him immensely.
"The kid needed an opportunity to sit back and just train, and maybe miss football a little. Now running the right route became important, now blocking became important, now school became more important."
The lesson regarding classwork took hold, according to Bottiglieri, when White called back to Emmaus with a status update: "He said he was pushing to get a 3.0 GPA. He was proud of that. It was first thing he mentioned."
Juco players have to overcome a stigma—too dumb, too lazy, too undisciplined—and Bottiglieri sees it when he's recruiting for Lehigh in the FCS. He contends the negative generalizations don't apply to White.
"He was never in trouble, always courteous, respectful polite. Kevin was a coach's dream," he said. "He and his brothers were always industrious kids. They always had jobs. There's great character in that family."
* * * * *
With three Lackawanna graduates currently on the WVU roster, Duda made a Sunday morning routine of watching the previous day's West Virginia game on DVR. (The viewing has a dual purpose: White's younger brothers, Ka'Raun and Kyzir, are players at Lackawanna and like to hear Duda's reviews on Kevin's performance.)
Thanks to the Mountaineers playing a Thursday night game on Nov. 20, Duda and some of his assistants were able to see their guys play in person. In a 26-20 loss to K-State, White made seven catches for 63 yards and a touchdown—a performance that felt like a disappointment.
At the sight of a familiar face, however, White's demeanor brightened and he jogged over to hug Duda. The junior college coach swelled: "Here he is, having a great college season and about to become an NFL player, but he hugs you like it's the first day of camp. It was exactly the same old Kevin, not pretentious at all. He's still a good, humble kid."
That's the feedback Duda provides NFL scouts accruing a book on White, who's projected to be among the first receivers selected in next spring's draft—right behind or ahead of Alabama's Amari Cooper, a fellow Biletnikoff finalist.
"Whether Kevin's the first wide receiver taken or the second or whatever, he's going to have a great career and a great life," Duda said. "He's earned it."