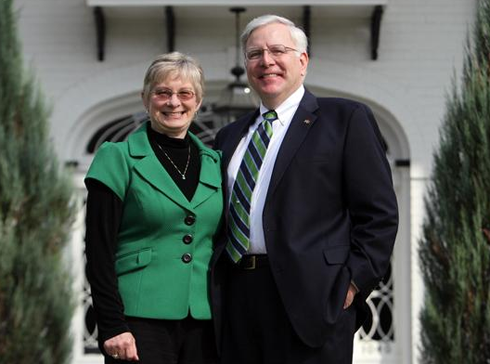 HUNTINGTON, W.Va. — Stephen Kopp, who oversaw $200 million worth of campus expansion during his nine years as Marshall University's president, died of an apparent heart attack Wednesday night.

"This is a huge shock. I was just with him this evening talking about the future of our area with legislative leaders," Huntington Mayor Steve Williams said in a statement released to the media. "It's a loss certainly to Marshall University, to our city and to the entire state. I lost a dear friend this evening."
Kopp suffered the heart attack at home, police said. He was pronounced dead at Cabell Huntington Hospital around 9 p.m.
Marshall Board of Governors chairman Michael Sellards called Kopp "one of the most dedicated and long-serving presidents in the 177-year history of Marshall University."

Marshall's leadership team plans to meet Thursday morning to review the university's continuity of operations plans, Sellards said.

"President Kopp has a strong leadership team in place and I'm confident that together, we can continue the business of the university in a manner that would make him proud," he said.

Kopp was Marshall's 36th president, beginning his work on the Huntington campus on July 1, 2005.
"He was a kind man, a nice man," Cabell County Delegate Carol Miller told MetroNews late Wednesday night. "I hate it for his wife Jane and his family. It's just so sudden, we're all shocked."
Miller credited Kopp with taking a proactive approach to obstacles.
"He was always thinking ahead and trying to figure out the best way to solve—not necessarily look at something as a problem—but more of an opportunity," Miller said.
U.S. Sen. Jay Rockefeller said Marshall grew in scale and popularity during Kopp's tenure, which included the largest freshman class in university history.
"Under nearly a decade of Steve Kopp's leadership, Marshall University has truly flourished. Steve ushered in an time of remarkable growth in research, scholarship, and development," Rockefeller said in a statement.
"The university, the city of Huntington, and the state of West Virginia have benefited from his vision. President Kopp was an extraordinary person who will be dearly missed."
West Virginia Higher Education Chancellor Dr. Paul Hill said the entire education community in West Virginia is diminished by Kopp's passing.
"Under his thoughtful leadership, Marshall has thrived as a place for students to learn, to grow, and to give back to our state and the people around them," the chancellor said.
After earning a bachelor of science degree in biology from Notre Dame, Kopp received a Ph.D. in physiology and biophysics from the University of Illinois at Chicago. He held leadership positions with Midwestern University, Central Michigan University and Ohio University before coming to Marshall.
Kopp is survived by his wife, Jane, their two children, Adam and Liz, and two grandchildren.