MEMPHIS, Tenn. — From the Chick-fil-A Kickoff game against Alabama to the Liberty Bowl matchup against Texas A&M, West Virginia's 2014 season will be bookended by SEC foes.
While a 10-point loss to the Crimson Tide showed wherewithal, senior offensive guard Mark Glowinski wants WVU to finish the job against the Aggies and puncture some of the mystique surrounding college football's most dominant conference.
"I just want to kick their ass, personally," Glowinski said. "If we played better we should've beat Alabama. We were driving down the field, but internally, we just made mistakes."
The Mountaineers are 1.5-point favorites against Texas A&M in a Midsouth faceoff of 7-5 teams that each appeared in the AP top 25 before enduring three-game losing skids. It's a tossup as to who owns the motivational edge: West Virginia is excited to be back in bowl game after a deplorable 2013 campaign, and the Aggies seniors are attempting to become the school's first class to post four straight bowl wins.
Then there's inevitable urge to take down any team from the vaunted SEC.
"There's no question that the SEC is everybody's idea of the best league," said West Virginia defensive coordinator Tony Gibson. "So when our kids hear 'SEC' they're excited to prove that we're just as good."
Since joining the SEC in 2012, Texas A&M's recruiting classes have climbed from No. 15 to No. 11 to No. 6 in the Rivals rankings. And even before the conference swap, West Virginia assistant Joe DeForest recalled the Aggies trotting out impressive specimens during their Big 12 days.
"When they walk on the field, you're going to go 'Wow!' Our kids are going to be surprised," DeForest said.
Yet Glowinski recalls how West Virginia moved the ball against Alabama, which ranked fourth nationally in scoring defense.
"They're definitely big and tall guys, but anything they've done, we've seen it," he said. "We've seen the best, so I feel we'll be prepared."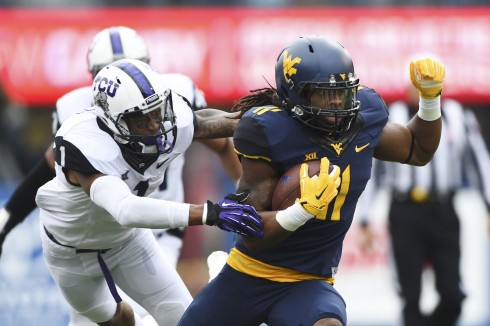 WEST VIRGINIA (7-5) vs. TEXAS A&M (7-5)
Kickoff: 2 p.m. Eastern (ESPN)
Radio: Nine hours of coverage begins on MetroNews affiliates at 11 a.m.
Line: West Virginia favored by 1.5
Kevin White's finale: Despite the NFL draft looming, West Virginia's Biletnikoff finalist was in no hurry to close out his college career.
"I just want to spend a little more time with my friends," said White, who enjoyed the four-day stint in Memphis. "All the gear and getting catered to. You kind of get spoiled here."
With 102 receptions, White stands 12 shy of matching Tavon Austin and Stedman Bailey for the school's single-season record.
"I didn't know that actually, but it would be nice," he said. "If I get 12 catches, that's a good game."
At 6-foot-3, White has enjoyed a size advantage on every cornerback this season. That won't change at the Liberty Bowl, where Texas A&M's top corner, Deshazor Everette is 6-foot and De'Vante Harris is 5-11.
"Going up against him, it's an opportunity to get some publicity," said Everette, who said he won't always be able to follow White because of WVU running tempo. "I want to go out there and play as well as I can."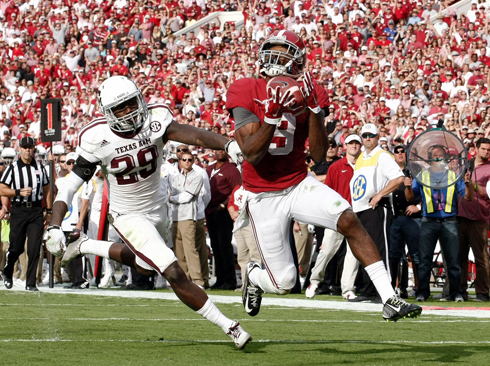 Comparative scores: The lone common opponent was Alabama, which beat West Virginia 33-23 in Atlanta on Aug. 30 and obliterated Texas A&M 59-0 in Tuscaloosa on Oct. 18.
"I don't want to talk about that one," said Aggies offensive coordinator Jake Spavital. "We were in our eighth straight game with no bye week and they got after us. I was disappointed in how we played. I thought we get hit in the mouth and we kind of backed out of it."
Dealing with the layoff: Like most teams trying to avoid practice injuries, West Virginia hasn't gone full-contact since the final regular-season game. Invariably, that can lead to missed tackles.
"That's the scary thing about a bowl game," said Gibson. "You have a month off. You try to do enough tackling and good-on-good in practice, but it always shows up in bowls at some point in the game."
Young quarterbacks: Sophomore Skyler Howard makes his second start since WVU's Clint Trickett suffered what has become a career-ending concussion. Though undersized, Howard is strong-armed and elusive, having completed 36-of-63 passes for 483 yards, five touchdowns and no interceptions. His 10 carries have netted 85 yards.
Freshman Kyle Allen started Texas A&M's final four games, posting a 2-2 mark that included a four-touchdown performance in a 41-38 upset win at Auburn.
Gibson was an assistant at Arizona when Allen was a five-star prospect in Scottsdale.
"He was at our 7-on-7 passing camps, so I'm very familiar with the kid and the ability he has," Gibson said. "He's really good. You could tell he was going to be the real deal.
"That kid is going to be very special. Hopefully it's one more game from now."