MORGANTOWN, W.Va. — Juwan Staten feels like he's the fastest guard in the nation, and his late-game heroics against No. 8 Kansas might have verified it.
After racing 60 feet through defenders for the go-ahead layup with 3.9 seconds left, Staten sped for the opposite end to disrupt the Jayhawks' game-ending countershot, a wild sequence that carried the No. 23 Mountaineers to a 62-61 upset Monday night.
"We just played till the end," said Staten, who celebrated with West Virginia students during the court-storming.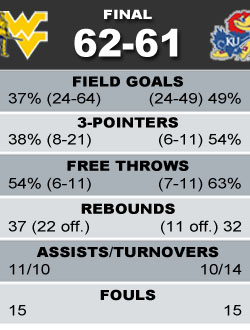 Behind his 20 points, four assists and zero turnovers, West Virginia (20-6, 8-5 Big 12) halted a four-game slide against ranked opponents and, for the moment, halted Kansas (21-5, 10-3) from running away with an 11th consecutive conference title.
Staten said he felt slighted during a pregame interview when an ESPN reporter asked whether he or Kansas' Frank Mason was the faster guard.
"That kind of made me mad. I feel like I'm the fastest player in the country. Hopefully people got to see a little bit of that on that last play."
Perry Ellis scored 15 of his 19 points in the second half and Mason added 18 for the Jayhawks, who lost in Morgantown for the second straight season by blowing a five-point lead in the final 3 minutes.
"This shows we can beat any team in the league," said Staten, who overcame leg cramps and missing a potential go-ahead jumper in the final minute. The senior earned a second chance with 8.3 seconds left when Mason's missed shot was knocked out of bounds.
After a timeout, the Mountaineers inbounded to Staten, who caught the pass at three-quarters court, raced toward the lane and spun away from Mason for a stunningly easy layup as other Kansas defenders stayed glued to 3-point shooters.
"Obviously they were trying to guard everybody," Staten said. "I don't think anybody wants to give up that last-second shot, so nobody helped (Mason) and that left me open."
Kansas coach Bill Self couldn't believe the breakdown.
"I thought (Staten) made a nice play but we couldn't have defended it any worse," he said. "You've got to keep the ball in front of you and we did a crap job of that."
Yet Staten's job wasn't complete. As the smallish crowd at the WVU Coliseum lost its collective mind, Jamari Traylor alertly fired a long outlet pass to the streaking Ellis—shades of how the Mountaineers victimized TCU last month. Staten, having hung a U-turn after his go-ahead shot, was challenging the catch. He lunged close enough to force a bobble before Ellis' point-blank buzzer-beater rolled off the rim.
Bob Huggins credited Staten with making "an unbelievable play."
Ellis stoic on the baseline and lamented the miss: "I rushed it a little bit, but I should have made it."
Carter keys comeback: Kansas lost a 59-54 lead when Mountaineers guard Jevon Carter swished back-to-back 3s within a 28-second span. Though Mason put the Jayhawks ahead again with an uncontested layup at the 2:13 mark, Kansas failed to scratch on its last four possessions, including a missed one-and-one by reserve Landen Lucas.
Carter scored 13 points off the bench for the Mountaineers, who were 8-of-21 on 3s.
"That's my young bull," Staten said. "I've got a lot of confidence in him. I'm always telling him to shoot the ball. What better way to show the confidence I have in him than to pass the ball to him in a situation like that."
Offensive rebounding: Among Staten's nine first-half points was a banked-in runner that put West Virginia ahead 33-30 with 22 seconds left. Kansas missed a chance to answer when forward Kelly Oubre's tip-in came after the buzzer.
That loomed large at game's end, though Self was more disappointed in Kansas being outrebounded 37-32. The Mountaineers grabbed 22 offensive boards, helping mitigate 37-percent shooting.
"We were soft on the glass, no question," Self said. "They were quick to the ball and they're a very athletic team."
Jonathan Holton led West Virginia with nine boards and Carter grabbed six.
Kansas freshman Cliff Alexander, one of the nation's most heralded recruits, grabbed one rebound in six scoreless minutes—all in the opening half.
Oubre finished with 14 points, but guard Wayne Selden contributed only four points on five shots. He had been scoring 16 points over his previous five games.
Williams fouls out: Mountaineers forward Devin Williams, two days removed from spraining his right thumb at Iowa State, made 4-of-5 first-half shots and dished out three assists. He didn't score in the second half, however, fouling out with 58 seconds left and only four rebounds.
Bonus time: Under a contract extension signed in 2012, Huggins earned an additional $25,000 for beating the Jayhawks, though he didn't recall receiving last year's bonus.
"My wife said it never came in the check."
Weather affects crowd: West Virginia's average attendance through 13 homes was 9,850, but the Big Monday crowd at the 14,000-seat WVU Coliseum was less than half-capacity with snowstorms impacting the state.
"If you listened to the radio, you would've thought it was 'Ice Truckers' out there," joked Huggins.