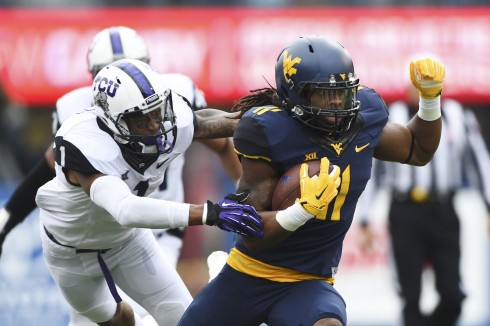 NFL Network draft analyst Mike Mayock, doling out some pre-combine opinions this week before players begin filling out the spandex in Indianapolis, said he likes Alabama receiver Amari Cooper.
But he likes West Virginia receiver Kevin White better.
"My No. 1 wide receiver is Kevin White from West Virginia," Mayock said. "I think I know what Amari Cooper is—what a great football player he is—but I have Kevin White above him because I think he's got a higher ceiling. I think his potential is greater. He's 6-foot-3, 219 pounds, but I want to know what he runs. I have all over my notes that he's a 4.5-flat guy. I hope he is, but if he's 4.58 or 4.6, I have to go back and look at his tape again."
Mayock suggested Cooper is the most polished receiver in the draft, which should be the case after three seasons as the go-to guy at Alabama. White played only two seasons of Division I football and endured a junior year that was underwhelming.
Even in a run-dominant offense, Cooper averaged 72 catches and 10 touchdowns per season for the Tide. That includes 124 catches and 16 scores last season under under Lane Kiffin's more balanced approach. But has the 6-foot-1 Cooper reached a performance plateau?
"I think Cooper has got the highest score," Mayock said. "I think he's the safest pick of the group. Really good route runner, had over 100 catches last year. Reminds me of some of those wideouts that played on the 'Greatest Show on Turf' with Dick Vermeil in St. Louis—Torry Holt, for example. That type of wide receiver."
In the taller White, Mayock sees a receiver with room to expand. During a senior season in which White caught 10 touchdowns and 109 passes overall (some with an incredibly high degree of difficulty), he made a quantum leap in confidence and performance.
Heading into the combine, Mayock said Cooper, White and Louisville's DeVante Parker are all "consensus top-20 picks."