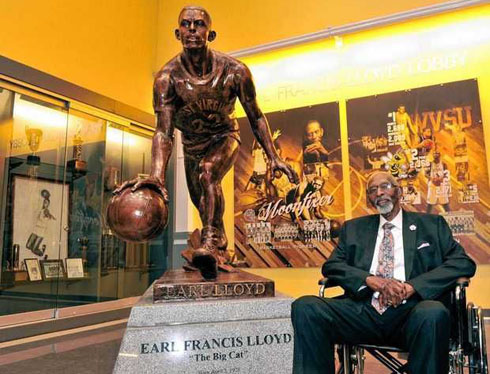 INSTITUTE, W.Va. — Earl Lloyd, who broke the NBA color barrier as a player in 1950 and later as a coach, died Thursday. He was 86.
Known as "the Big Cat," Lloyd first gained notoriety as a three-time all-conference player at West Virginia State College, now West Virginia State University, beginning in 1947.
WVSU president Brian Hemphill released a statement Thursday night:
"The State family mourns the loss of a fellow Yellow Jacket and trailblazer who was a true champion both on and off of the basketball court. When Earl stepped out on the court on that fateful date in 1950, this remarkable man rightfully earned his place in the historic civil rights movement and, more important, he opened the door to equality in America. I am so thankful the State family was able to welcome Earl back to campus last year, honor him and celebrate his legacy and unveil the Earl Francis Lloyd Lobby and statute in the new state-of-the-art convocation center. On behalf of the State family, my wife, Marisela, and I extend our deepest condolences to Charlita and their sons and extended family."
A member of the Naismith Basketball Hall of Fame, the 6-foot-5 Lloyd made his historic NBA debut for the Washington Capitols on Oct. 30, 1950. Lloyd played in 560 regular-season NBA games, averaging 8.4 points and 6.4 rebounds.

He later became the first African-American to win an NBA championship—as a member of the Syracuse Nationals in 1955—and the first to be named an NBA assistant coach, with the Detroit Pistons in 1968.
A native of Alexandria, Va., Lloyd lived in Crossville, Tenn., at the time of his death. He is survived by his wife and three sons.

Bryan Poore, West Virginia State's current basketball coach, also issued a statement through the school:

"Today society lost a true treasure with the passing of Earl Lloyd. Not enough, but many people know of his pioneering accomplishments in the game of basketball by breaking the color barrier as a player, a champion and a coach in the NBA. Those who had the pleasure of meeting Mr. Lloyd know why society, not just basketball, lost a treasure. He was the most humble, caring, positive person I have ever come across. His uplifting spirit made everyone who came in contact with him feel special. I will forever cherish the many great times and insightful conversations I was able to have with this historical legend. He truly loved his alma mater."