HUNTINGTON, W.Va. — The top names in Marshall's athletics department, football coach Doc Holliday and AD Mike Hamrick, finalized long-term contract extensions aimed at keeping them at the school into the next decade.
The new deals, which run through 2021, were announced by Marshall on Wednesday.
Holliday's extension increases his salary package from $600,000 a year to $755,000 with more incentives for conference championships, bowls and season ticket sales. The raise puts him among the top three salaries in C-USA.
The $725,000 buyout in Holliday's contract jumps to $3 million if he were to leave Marshall and take the head coaching job at West Virginia.
Last season, Marshall finished 13-1, won its first Conference USA title and beat Northern Illinois in the Boca Raton Bowl. Holliday began to garner interest from other programs including Pittsburgh.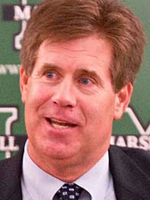 Hamrick agreed to a six-year extension worth $300,000 annually, a raise of $30,000 a year.
"The renewal of the contracts of Mike Hamrick and Coach Holiday is a clear indication of their commitment to Marshall's success and growth in Division I athletics," Marshall interim president Gary White said. "We are delighted we were able to successfully negotiate continuations that will keep Marshall moving forward."
"I'm as happy as I've ever been coaching football in my career, right here now at Marshall University," Holliday said. "I just appreciate the commitment, starting with Dr. (Stephen) Kopp, who's sadly no longer with us. He gave me the opportunity, along with Mike Hamrick, and they made the commitment to winning championships here.
The opportunity to continue to be your football coach is an experience of a lifetime. Herd Fans must #BEHERD pic.twitter.com/DYd4QC9rcX

— John Doc Holliday (@DOCMUFB) April 8, 2015
Holliday's contract includes a base salary of $175,000 with guarantees of $330,500 for his weekly radio and TV shows. Holliday also will receive $200,000 for annual appearances at the Big Green Scholarship Foundation fundraisers.
Marshall is 40-25 under Holliday and 3-0 in bowl games.
Holliday signed an extension last year after guiding the Herd to the 2013 Conference USA championship game and a win in the Military Bowl over Maryland.
"We have the premier program in Conference USA and one of the best in the nation, as the final rankings showed," White said. "That's a credit to Coach Holliday and his staff, and I'm looking forward to us having big success for a long, long time."