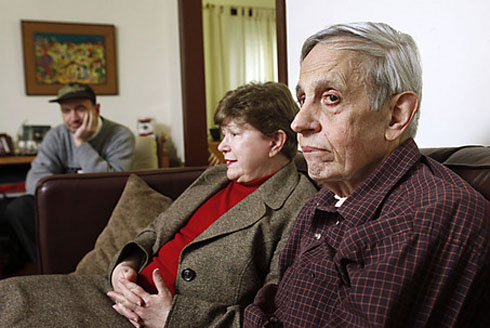 MONROE, N.J. – West Virginia native and Nobel Prize winning mathematician John Nash and his wife Alicia were killed Saturday in an accident on the New Jersey Turnpike.
John Nash was 86 and Alicia Nash was 82. The couple, who had been married for nearly 60 years, lived in Princeton Junction, N.J. Nash, who was born in Bluefield, W.Va., in 1926, was awarded the Nobel Prize for economics in 1994. He struggled with paranoid schizophrenia, a central theme of the 2001 film "A Beautiful Mind" starring Russell Crowe as Nash.
Crowe tweeted his sentiments upon hearing the news:
Stunned…my heart goes out to John & Alicia & family. An amazing partnership. Beautiful minds, beautiful hearts. https://t.co/XF4V9MBwU4

— Russell Crowe (@russellcrowe) May 24, 2015
Alicia Nash cared for her husband while he battled mental illness and they both became advocates for treatment.
According to his biography, Nash's mother, Margaret Virginia Martin, was born in Bluefield, studied at WVU and became a school teacher. His father, John Nash, Sr., was an electrical engineer who moved to Bluefield to work for Appalachian Electric Power Company.
The younger Nash attended public schools in Bluefield before starting his college studies at Carnegie Tech in Pittsburgh.
Nash described Bluefield during his youth as "a center of businessmen, lawyers, etc. that owed its existence to the railroad and the rich nearby coal fields of West Virginia and western Virginia. So, from an intellectual viewpoint, it offered the sort of challenge that one had to learn from the world's knowledge rather than from the knowledge of the immediate community."
His Nobel Prize was for a paper on the mathematics of decision-making. Nash spent his professional academic career at Princeton and MIT where he was a leader in the study of mathematics.
At the time of his death, Nash was still on the faculty at Princeton as a senior research mathematician.
Multiple media outlets reported the two were thrown from a taxi when the vehicle crashed into a guard rail.