COMMENTARY
MORGANTOWN, W.Va. — As the final play of last year's game at Maryland unfolded, West Virginia's Josh Lambert wasn't widely hailed as an elite kicker, much less a Lou Groza contender.
He was just a sophomore trying to make amends.
On West Virginia's previous series, Lambert's first tiebreaker attempt from 43 yards was launched at a too-low trajectory and batted down.
Now Lambert spent the game's waning moments blasting balls into a practice net, stealing glimpses as the offense squeezed 13 plays in the final 2:35 to give its kicker another chance.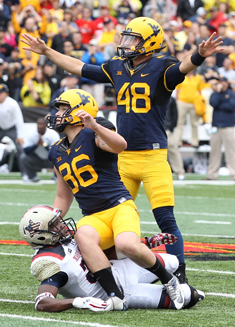 "I had just missed one," he recalled, "so the only thing going through my mind was make the kick, don't mess it up again."
This time, Lambert's 47-yarder was through and true, a walk-off winner that lifted the Mountaineers 40-37 and colored Lambert's reputation as a clutch performer.
Coincidentally, the kicker on Maryland's sideline, Brad "Automatic" Craddock, would go on to win the Groza trophy in December, joining Lambert at the Orlando awards show where the two became friends.
"A great kicker and an even better guy," Lambert said of Craddock, who's back for his senior season at Maryland and possibly setting up another kicker-take-all duel when the Terps visit Morgantown on Saturday.
Though Lambert topped the nation at 2.31 field goals per game and set an NCAA single-season mark with 16 makes from 40-plus, he didn't think he deserved the Groza award.
"Going into (Orlando) I knew I wasn't going to win," said Lambert, presuming his nine misses wouldn't overtake Craddock's 18-of-19 season line.
"For me it was more of an experience thing, seeing the kind of kickers I was up against."
Going up against his new pal Craddock once more will be a rush, though Lambert stoically downplays the individual angle.
"Josh is a flatliner, but he knows who's across the way from him," said West Virginia assistant Joe DeForest, the only FBS recruiter to guarantee Lambert a scholarship in 2012. "Josh is one of the top kickers in the country going against the guy who's at THE top. It's human nature, you're going to have competition."
Both kickers stand 5-of-6 on field goals this season. Craddock's miss somewhat inexplicably came from 28 yards against Richmond (the same game in which he botched a PAT). Lambert's misfire was a 54-yarder that landed well short in the last game against Liberty, leading DeForest to speculate his All-American candidate hasn't fully recovered from a preseason plant foot injury.
(Sidebar: Lambert dismisses the lingering impact of that injury, but not the lesson learned from taking an awkward step during a backpedalling drill. "It's what happens when kickers who don't normally have to do those kind of movements try to do those kind of movements," he joked. "I'm not going to say I'm the most athletic person. You see some kids doing back-flips, but I kick footballs. No more agility drills for me.")
Lambert pinned the recent miss on mis-striking the ball off his toe, not the preseason setback that temporarily sapped some of his leg strength. He noted that during pregame warmups—where DeForest tries to assess his specialist's range for the day—Lambert felt comfortable from 55 yards.
It's part of an overall comfort he senses these days, whether the situation entails a last-second kick or a random extra point.
"My nerves the first two years were crazy," Lambert said, "but now it's just another day on the job."