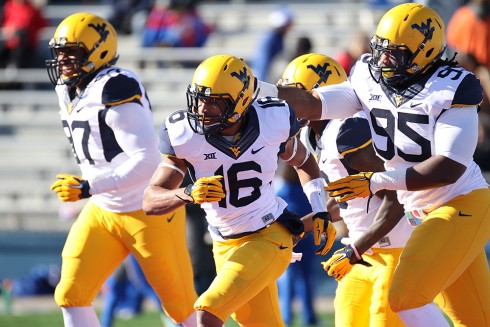 LAWRENCE, Kan. — Within the span of three first-quarter snaps, Terrell Chestnut jarred loose a Kansas fumble and plucked a pick-six, staking West Virginia to a two-score lead within the opening 4 minutes.
"From that point on we looked like sharks on both sides of the ball," said defensive coordinator Tony Gibson said. "It was a feeding frenzy."
The Mountaineers fed plenty during a 49-0 victory that marked their second shutout of the season, but their first in the Big 12 after 34 games.
Yet Saturday began inauspiciously: Kansas receiver Tre Parmalee running free for a 23-yard catch down the seam. Thing is, he didn't see the senior Chestnut in hot pursuit, and the cornerback knocked the ball free, having seen on film that KU's "ball security was a little shaky." Safety Jarrod Harper pounced on the fumble and West Virginia took a 7-0 lead five plays later.
The margin doubled when KU freshman quarterback Ryan Willis tested Chestnut on the next series, resulting in a 32-yard interception return. Again, Chestnut credited the scouting report.
"We've seen they like to run curls to the boundary about 95 percent of the time," he said. "I was able to sit on the route and jump it.
"We were in Cover 3 but I only had one receiver to my side so I was able to play him a little more aggressively."
Essentially playing with one arm since suffering a shoulder injury at Baylor on Oct.17, Chestnut felt stronger Saturday, though he'll remain on alert for rest of his final season.
"He always comes ready to play," Gibson said. "It's just a question if the body parts can hold up."
Somewhat surprisingly, West Virginia's second-string defense held up also, thanks to end-zone interceptions by junior cornerbacks Rasul Douglas and Nana Kyeremeh, the first of each's career.
"I don't care about (the shutout) for me or our defensive staff or any stats, but I wanted to get that for these seniors," said Gibson, who set a personal high-jump record after Kyeremeh's interception with 5 minutes left.
"They gave great effort all day long. We played hard and we kept coaching hard. We weren't getting off of it. We wanted to finish and we did."