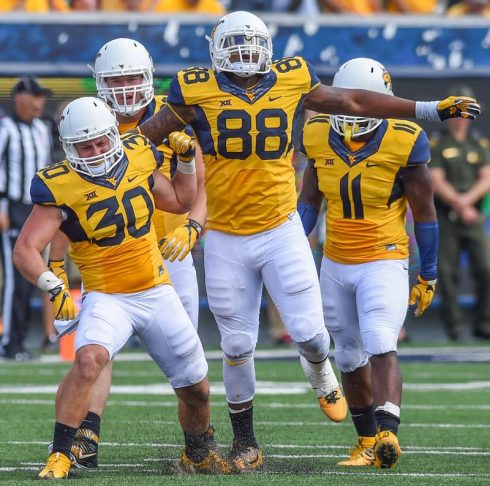 MORGANTOWN, W.Va. — Having spent eight months re-assembling West Virginia's defense, Tony Gibson liked what he saw in his players' expressions before Saturday's opener.
He really liked what he saw on the scoreboard after the game.
The Mountaineers' starters yielded only a field goal against Missouri in a 26-11 victory that showed Gibson's unit may not be headed for such a dramatic dropoff.
Despite having four players drafted into the NFL and losing eight starters overall, Gibson had the last laugh in Week 1. He even teased SEC Network Booger McFarland for predicting Missouri would break out.
"Some big guy named Booger, he said they'd score 30 today," Gibson said. "If any of you guys can get hold of him and let him know that didn't happen, I'd appreciate it."
Arndt delivers in first start
Former walk-on Justin Arndt tied for the team lead with eight tackles and sacked Missouri quarterback Drew Lock out of his shoe on a blitz. Perhaps the Martinsburg High product isn't merely a placeholder for the suspended Xavier Preston?
"I don't know if Xavier can start at this point in time," head coach Dana Holgorsen said. "I think Xavier's one of our better defensive football players but Justin Arndt has had just an outstanding camp.
"He doesn't look like much but he's hard to block. He plays with unbelievable pad level and an tremendous amount of energy and enthusiasm."
The fifth-year senior, listed at 5-11 and 215 pounds, has played primarily on special teams throughout his career. He estimated he had never played more than 15 snaps in a game until Saturday, when he was active on more than 70 of Missouri's 100 plays.
"I've been telling you guys for eight months the kid just does everything right," Gibson said. "I see him in practice and our offense struggles blocking him."
Up-tempo Tigers
West Virginia thought Missouri might go no-huddle, but nothing like the frantic pace offensive coordinator Josh Heupel attempted.
"That's as fast as I've ever seen any offense—ever," Gibson said. "I was calling it as fast as I could and we still weren't lined up a few times.
"But sometimes when offenses do that the screw themselves up. They go so fast they don't see what's in from of them. They just snap it and we've got guys running."
Big back
On fourth-and-1, Mizzou handed off to 355-pound defensive tackle Josh Augusta, who surged for a first down at the West Virginia 35.
Tigers head coach Barry Odom pledged to use the Fridge-like package more with Augusta, because "the football disappears when he gets ahold of it."
Crawford returns
Missouri finished 10-of-24 on third downs and 1-of-3 on fourth-down tries. One of those in the final minute resulted in cornerback Antonio Crawford breaking up on a goal-line slant route for J'Mon Moore.
Crawford, playing in his first game since transferring from Miami after the 2014 season, said he was "a little rusty" in the opening half when Moore beat him on a 42-yard catch.
"I kind of felt like a freshman again," he said. "It was a long year off."
Crawford felt a little wheezy after being flattened on a crossing pick by tight end Sean Culkin. Missouri was flagged for offensive pass interference.
Crawford never saw Culkin coming and missed the stadium replays as trainers attended.
"No, I didn't see it—I was just trying to breathe," he said. "I knew that was a dirty shot because obviously you can't do that. I was thinking, 'I hope somebody gets him back.'"