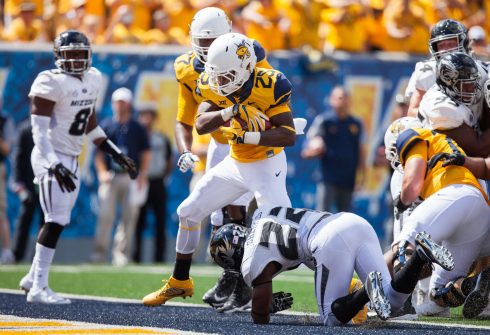 MORGANTOWN, W.Va. — His West Virginia debut produced 101 yards rushing and a crucial second-half touchdown. Still, it wasn't enough for Justin Crawford to escape some ribbing from his position coach.
Ja'Juan Seider followed up the 26-11 win over Missouri by telling his prized new recruit: "Man, you're the most skilled guy I've ever seen catch five balls for 9 yards."
Though check-downs caught in traffic didn't allow Crawford to pile up yards after the catch, coaches sounded thrilled with last season's national junior college player of the year. Most encouraging, his attention to assignments surpassed expectations for a player who only began transitioning to the offense in June.
"He graded out around 97 percent," Seider said. "He didn't get outside the framework of the offense, and that's what you worry about with kids that are gifted, because they see things that you don't need them to see."
Seider also keeps score his own informal chart for running backs, something he calls his "make-a-play" grade. It measures whether a runner made a tackler miss one-on-one when a play is properly blocked. It accounts for situational effectiveness, such as when Crawford caught an underneath pass and wiggled away from two defenders to convert a third-and-short.
"It's all about did a kid make that play we needed, and I grade those as hard as I grade assignments," Seider said. "Justin was 15-for-17 in that box."
Crawford's 21-carry performance marked the first 100-yard debut for a Mountaineers running back since Charles Sims in 2013. Fifteen of Crawford's carries came in the second half, with Rushel Shell suffering leg cramps and Kennedy McKoy benched by a brain camp. The talented freshman's wrong-way step led to a busted-play keeper by Skyler Howard on which the quarterback's rib injury flared up.
"Yeah, that's why Kennedy was sitting by me for a long time," Seider said. "I can deal with that kind of mistake if it's called on the field when we're playing fast, but not when it's coming from the sideline. That's why I told Kennedy I'm so disappointed in him. That can't happen."
As Seider focuses on sharpening up West Virginia's skill players, Crawford is proving to be an outspoken lieutenant. When the JUGS machine was firing passes last week, Crawford ripped into tight end Trevon Wesco for dropping one.
"Justin's having fun but he's passionate about what he does," Seider said. "You wish Charles (Sims) would have spoke up like this kid does."
With Missouri's safeties keeping their distance, West Virginia's play selection tilted slightly toward the ground game (48 runs, 37 passes). The alignments ranged from Crawford and Shell in twin-back sets, to one of those with a fullback, to a diamond formation featuring Crawford or Shell behind two fullbacks.
Crawford, like McKoy, has the flexibility to line up in the slot at times, creating a different look without affording defenses time to substitute.
"He's got great ball skills," head coach Dana Holgorsen said. "You didn't see a whole lot of the passing game stuff that he brings to the table, but he's a threat in the pass game."