MORGANTOWN, W.Va. — The nearly 400 members of "The Pride of West Virginia," West Virginia University's Mountaineer Marching Band, may help lead off the 2016 Macy's Thanksgiving Day Parade, the 90th year for the parade.
"They're really happy with our band and it looks like they would like to start by making a big statement," said Jay Drury, director of the "Pride" and associate director of bands at West Virginia University.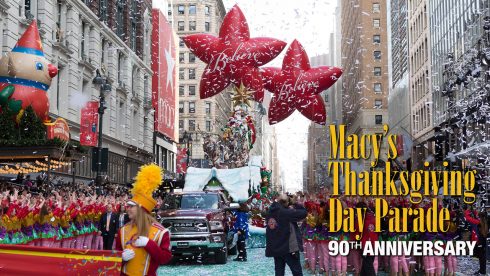 He was recently in New York City to meet with parade officials.
"It's not set in stone yet, but it looks pretty good that we'll be the first band in the parade, right off the bat," Drury reported on a recent edition of the MetroNews "Statewide Sportsline."
The Mountaineer Marching Band was one of ten bands selected from 175 applicants and is the only collegiate band scheduled to march in the 2016 parade, a holiday tradition in New York and across the U.S.
On Thanksgiving Day, crowds on New York's streets are expected to top 3 million with an estimated 50 million viewers watching on NBC.
The band has been preparing for 18 months for the parade that steps off at New York's 77th Street and Central Park West at 9 a.m., but the day will begin much earlier for the 385 members of "The Pride."
Rehearsal is scheduled for 3 a.m. Thursday, Nov. 24 at Herald Square, the iconic location right outside of Macy's in Manhattan.
"After that, we'll probably actually sit on the bus and, maybe, take a little nap and then we'll go to breakfast around 5 a.m. and then, once we finish breakfast, then we'll drive uptown. The lineup area is up around Central Park West," Drury said.
It'll take nine charter buses to transport band members and staff and 120 hotel rooms to house them in New York's Times Square. There are additional food costs.
To help with expenses for the New York trip and others this fall, fundraising continues through the Pride Travel Fund Campaign.
"We've already got a great amount of support and we really do appreciate that, but it's definitely not too late and we could still use a few more dollars," Drury said. "No amount's too small."
In all, more than 10,000 people will be participating in the Macy's Thanksgiving Day Parade, according to parade organizers.
The other bands joining the Mountaineer Marching Band are as follows:
NYPD MARCHING BAND
NEW YORK, NY
MACY'S GREAT AMERICAN MARCHING BAND
PROSPECT MARCHING KNIGHTS – PROSPECT HIGH SCHOOL
MT. PROSPECT, ILLINOIS
GREENDALE HIGH SCHOOL MARCHING BAND
GREENDALE, WISCONSIN
WOLFPACK MARCHING BAND – JOE E. NEWSOME HIGH SCHOOL
LITHIA, FLORIDA
HENDRICKSON HAWK BAND – HENDRICKSON HIGH SCHOOL
PFLUGERVILLE, TEXAS
CARY SENIOR HIGH SCHOOL MARCHING BAND
CARY, NORTH CAROLINA
HARRISON HIGH SCHOOL MARCHING BAND
KENNESAW, GEORGIA
NA KOA ALI'I HAWAI'I ALL-STATE MARCHING BAND
HAWAII