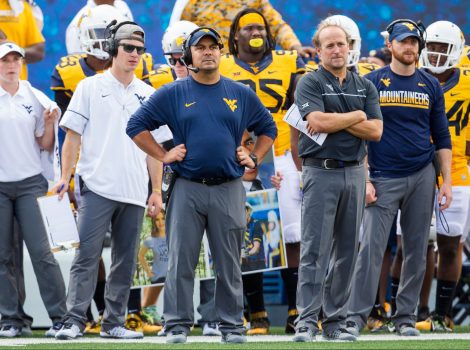 MORGANTOWN, W.Va. — Barely 24 hours after West Virginia's Dana Holgorsen finalized his contract extension on Dec. 3, the head coach and Athletics Director Shane Lyons made re-signing defensive coordinator Tony Gibson their top priority.
Sources told MetroNews on Dec. 4 both sides were negotiating for a three-year deal, which expedited Wednesday's announcement of Gibson's $2.7 million extension through 2019.
Gibson will earn $850,000 next year, up from the $700,000 he was scheduled to receive under the previous deal. In 2018 his salary climbs to $900,000 and in 2019 it reaches $950,000.
"There was never any doubt where we wanted to be," Gibson told MetroNews "Sportsline" on Wednesday night. "We're Mountaineers and so grateful to be here."
For the second consecutive year, feelers contacted Gibson to gauge his interest in interviewing for head coaching jobs at the FCS level and coordinator positions at other Power 5 programs.
But the Boone County native, who last week donated $20,000 to needy families in Van, wasn't ready for his second stint at WVU to end.
"Yeah I would like to make that step to head coaching at some point, but we have a lot of unfinished business here that I'd like to help Dana get to," Gibson said. "We work so well together and he allows me to do what I do on defense. I think we have a great relationship."
Whereas West Virginia ranked 108th and 101st nationally in total defense its first two seasons in the Big 12, Gibson's three-year tenure as coordinator has seen the Mountaineers average 69th. After giving up 38 and 33.3 points per game in those initial two Big 12 campaigns, WVU has allowed only 25.2 points under Gibson.
"Obviously the recruiting has picked up the past few years," Gibson said. "And going into Year 3 of the system, those kids have been growing up in the system, doing what they do and believing in it."
After the 2015 defense set a school record with four players drafted in the first five rounds, Gibson also faced replacing 12 seniors on the two-deep. That scenario turned even more dire when the top returnee, junior free safety Dravon Askew-Henry, suffered a season-ending knee injury during August practice.
Yet West Virginia surrendered only 23.4 points per game — the defense's best showing since 2010 — while leading the Big 12 in forced turnovers and pass-efficiency defense. It allowed the conference's fewest touchdowns (31) despite being put in bad scenarios by a WVU offense that committed 20 turnovers, fourth-most in the league.
The defense excelled while being led in tackles by Justin Arndt, a former walk-on, and enduring frequent injuries to the cornerbacks opposite second-team All-American Rasul Douglas.
"This was a group of kids that never ever wanted to disappoint, whether it was their teammates, Mountaineer Nation or the coaches," Gibson said. "I can't thank them enough. I'm in this situation because of what they do.
"To be honest, they've exceeded my expectations through 12 games."
West Virginia (10-2), after closing the regular season 16th in the CFP rankings, is preparing to face Miami (8-4) in the Russell Athletic Bowl on Dec. 28.
Gibson's deal figures to make him the third-highest-paid defensive coordinator in the Big 12 behind new Texas hire Todd Orlando ($1 million) and Oklahoma's Mike Stoops ($905,400).
Still to be determined is who will serve as Baylor's coordinator under new head coach Matt Rhule, and TCU has not disclosed what it pays Chad Glasgow. But Gibson's salary far exceeds Oklahoma State's Glenn Spencer ($600,000), Texas Tech's David Gibbs ($558,000), Kansas State's Tom Hayes ($474,200), Iowa State's Jon Heacock ($454,000) and Kansas' Clint Bowen ($400,000).
"Gibby has done a great job with our defense, and I want him to continue to lead our defense," said Holgorsen, who has input on what assistant coaches' earn through a salary-pool attached to his contract. "Our players respond to him, and the scheme fits our program well. Tony has the defense playing with an edge and it shows in the results."