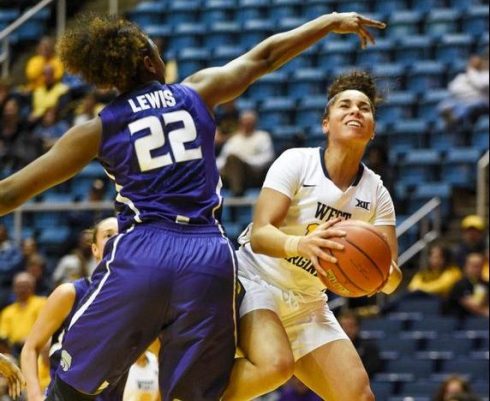 MORGANTOWN, W.Va. — Teana Muldrow hit three free throws after West Virginia allowed most of a 19-point lead to evaporate, and point guard Chania Ray recorded her first double-double as the Mountaineers held off No. 24 Kansas State 66-59 on Wednesday night.
West Virginia (18-8, 6-8) bolstered its NCAA tournament case despite a four-point night from Tynice Martin, who came in averaging 17 per game.
Ray picked up the slack with 14 points and 10 assists, while Lanay Montgomery worked around foul trouble to finish with 12 points and 12 rebounds. Katrina Pardee also scored 14, all in the first half.
"Tynice didn't get a lot of looks because they were playing box-and-one," Mountaineers coach Mike Carey said. "She has to move more. We were running a lot of picks, we just weren't getting her open, but I thought the other girls stepped up and did some nice things."
Kindred Wesemann scored 14 points and Kaylee Page added 12 for Kansas State (18-8, 8-6), which trailed 35-16 midway through the second period before slowly chipping away in the second half.
The Wildcats trimmed the game to two points on two occasions in the fourth quarter, which included a Page 3-pointer at the 4:34 mark to make it 52-50. Muldrow's layup sparked a nine-point Mountaineers run to push the West Virginia lead back to 11.
Muldrow had 10 points — moving within 16 of 1,000 for her career —along with six rebounds and five of WVU's 21 turnovers.
The Mountaineers won the rebounding fight 38-29 and beat a ranked team for the second time this season.
"That was a good win for us," Carey said. "They have a great RPI and we needed that win."
The Wildcats, who entered 22nd in the RPI, shot 41 percent overall with 19 turnovers.
"For us we had turnover issues, rebounding issues, and then we had defensive rotation issues," said K-State coach Jeff Mittie. "That's a lot of problems to try and cover up against a good team like West Virginia."
West Virginia shot 45.5 percent (25-of-55) from the field and went on a 22-2 run capped by Pardee's layup.
WVU carries its two-game win streak on the road with a visit to Iowa State on Saturday.