CHARLESTON, W.Va. — As West Virginia considers whether to raise fuel taxes and DMV fees to pay for highways improvements, it's not the only state to do so.
Tennessee Governor Bill Haslam, a Republican, sought and got legislative approval of a gas tax increase of 6 cents over three years to pay for longstanding transportation needs. Various fees on motor vehicles also would go up.
The bill – which Haslam calls the "Improving Manufacturing, Public Roads and Opportunities for a Vibrant Economy Act," nicknamed IMPROVE – amounts to about $350 million for transportation improvements.
In South Carolina, lawmakers have been working out differences in proposals that would raise the gasoline tax for the first time in 30 years in an effort to improve the state's roads. Gov. Henry McMaster is threatening a veto, though.
Those are just a couple of examples, but the trend is apparent to Mike Clowser, executive director of the Contractors Association of West Virginia.
"We think with what other states are doing — especially within the last week or 10 days, Republican legislators in Tennessee, Indiana, Montana, California, all have passed fee increases over he past 10 days — I think people are beginning to see the effects of what not investing in our highways is doing to our roads and bridges," Clower said Friday on MetroNews' "Talkline."
Contractors Association of W.Va. Director Mike Clowser and @HoppyKercheval discuss fixing roads on Talkline. WATCH:https://t.co/wkudfIAoe1 pic.twitter.com/LzvY1SWang

— MetroNews (@WVMetroNews) April 28, 2017
Here, the Legislature is set to discuss increased revenue for roads and bridges as part of a special session on a broader budget bill starting this Thursday.
Gov. Jim Justice has proposed raising the gasoline tax to help provide more funding for West Virginia highways construction and maintenance. He envisions leveraging the additional funding through bond sales for a large-scale highways program.
The governor also sees the projects as a way to put thousands of West Virginians to work and bolster the state's economy.
The state's gasoline tax that goes to the Road Fund is actually made up of two components. One is a stable excise tax and the other is a fluctuating number tied to the average price per gallon of gasoline.
In this case, the excise tax would be bumped from its current 20.5 cents per gallon to 25 cents a gallon starting July 1.
The variable component would also get some new parameters starting July 1, bottoming out at no less than 15.2 cents per gallon. Currently, the variable component is 11.7 cents per gallon.
The proposal would also stipulate that the average wholesale price of fuel would never be considered lower than $3.04 a gallon and would never drop lower than 10 percent from the prior year.
The bottom line is, the gasoline tax would never be lower than 40.2 cents a gallon. Right now it's 32.2 cents a gallon.
Justice also has proposed increasing DMV fees, generally doubling them and leveraging the increased revenue for highways and bridges projects.
The Republican majority in the House of Delegates has favored a different approach.
They voted for Senate Joint Resolution 6, which authorizes the governor to put a road bond before the voters. The resolution says that when a bond is approved, the Legislature will provide for a collection of taxes to pay for the bonds.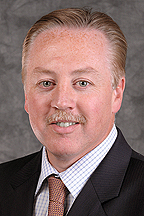 Delegate Eric Householder, the vice-chairman of the House Finance Committee, was one of those in favor of that approach.
"I do not think we ought to raise the taxes before hand because you have to see if the voters are willing to accept the proposal," Householder, R-Berkeley, said in a telephone interview.
Householder is among the lawmakers who are cautious about raising fuel taxes because their constituents can so easily opt for lower prices across state lines.
"There's not an appetite in the Eastern Panhandle for an 8 cents per gallon gas increase," Householder said.
Householder also raised a concern about taking on more indebtedness through bonding. When it downgraded the state's credit rating a few months ago, Moody's noted "the state's debt burden could increase under the Governor's new infrastructure proposal."
"My concern is what the credit rating will eventually think or say. If you go back and read that letter from Moody's they are concerned with the governor's new infrastructure proposal," Householder said. "They will be watching debt."
Clowser is concerned that if the Legislature isn't open to revenue for roads up front, voters are unlikely to approve a bond measure.
"Of the last four road bonds that have been proposed only one has passed," Clowser said. "I think you'll see an organized effort out there. We think there will be enough outside pressure to make that a negative vote.
"We think roads and bridges need to be repaired and replaced immediately. We're going to lose a whole construction season if we postpone this until later in the year."
Clowser says raising the revenue for large-scale highways funding would be extra challenging during an election year. He says the time is now.
"If we're looking for future jobs, we've got to have a safe and modern transportation system, and we think the time is now," Clowser said. "We don't think there is another opportunity to address our highways programs in the next two or three years if we don't do it today."