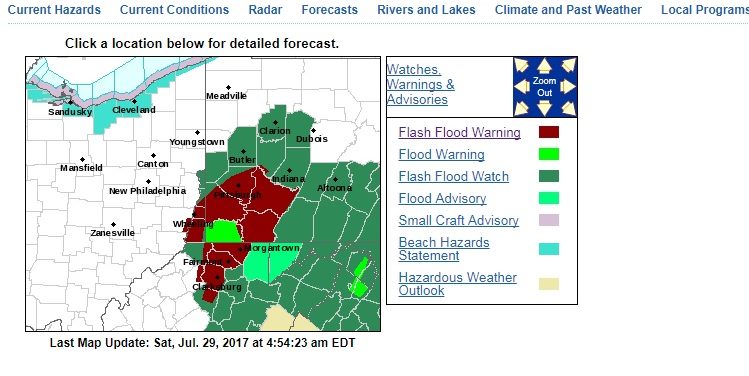 WHEELING, W.Va. — A flash flood warning is scheduled to expire at 8:45 a.m. Saturday for Monongalia, Wetzel and Marion counties following heavy rain. The system that's moved across those counties hit parts of the Northern Panhandle Friday night and into early Saturday morning causing high water damage.
Authorities in Ohio County said it's some of the worst flooding they've seen in the area since what was caused by Hurricane Ivan in 2004. South Wheeling, Elm Grove and the Triadelphia areas in Ohio County appear hard hit along with several Marshall County communities including McMechen and Benwood.
Ohio County authorities did recover a body from the Ohio River late Friday night near Main Street Bank and they believe it's the body of Page Gellner, 18, who went missing in flash flooding last weekend along Browns Run near Triadelphia.
Posted National Weather Service flash flood warnings for Marshall, Ohio and the southern part of Brooke counties were scheduled to expire by 6:45 a.m. Saturday. A flood warning for Harrison County, caused by prolonged moderate rainfall is in effect until 9 a.m. Saturday.
The McMechen area picked up more than four inches of rain and fire departments had to do a number of rescues as water surrounded homes.
This story will be updated.