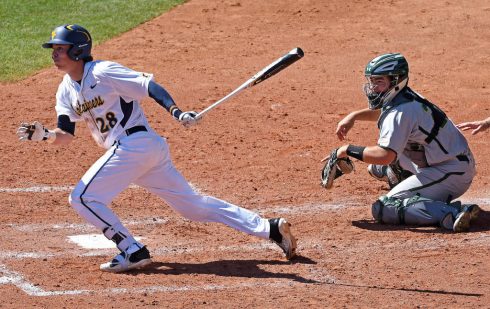 MORGANTOWN, W.Va. — Third baseman Cole Austin, coming off a breakout sophomore season at West Virginia, is transferring to Arizona State.
Austin started 97 games over two years with the Mountaineers, 58 of those last spring when he blossomed into a .302 hitter and drove in 44 RBIs to help the Mountaineers reach their first NCAA tournament since 1996.
The Kennesaw, Ga., native batted cleanup during the Winston-Salem Regional, smashing a two-run homer in a 9-1 opening-game win over Maryland.
On April 1 his two-run, ninth-inning shot tied the game at Oklahoma State before WVU won it in extras.
A source close to the program said the school granted Austin's release after he expressed a desire to play his final two seasons elsewhere.
Austin's seven homers and .459 slugging percentage would have made him West Virginia's top returning power hitter in 2018. He also was 9-of-12 in stolen bases.
Despite the graduation of first baseman Jackson Cramer (.270, 11 homers, 46 RBIs) and the loss of MLB draftee Kyle Davis (.316, 10 homers, 44 RBIs), West Virginia still projects to return six position players with significant starting experience.
Curiously, Austin leaves an ascending program for one that bottomed out. Arizona State slipped to 23-32 this past season — its first losing record since 1985 — and finished in the Pac-12 basement.