CHARLESTON, W.Va. — How might Senator Joe Manchin shape up against either of the two well-known Republicans lining up to challenge him in 2018?
Pretty well, according to a snapshot of statewide opinion assessed over the past few weeks by the MetroNews West Virginia Poll.
The poll shows Manchin with 50 percent of the vote versus 40 percent for Congressman Evan Jenkins in a theoretical general election matchup.
Eleven percent of respondents in that race were undecided.
Results were similar for a theoretical general election battle between Manchin and Attorney General Patrick Morrisey. The results show Manchin with 52 percent and Morrisey with 38 percent.
Again, 11 percent said they were unsure.
"So all this money and attention will come down to 11 percent," concluded Robert Rupp, a political science professor at West Virginia Wesleyan College who was asked to provide context to the West Virginia Poll results.
Although it appears Manchin has a solid lead at the moment, much could change between now and the 2018 election, said Rex Repass, a professional pollster who formulated the questions in the West Virginia Poll.
"In this state that has turned very red, a Republican that is popular like Evan Jenkins or Patrick Morrisey will have a chance. This will not be an easy race," Repass said.
The margin will likely assure Republican strategists that there's an opening, Repass said.
"If I were plotting strategy for Republicans, I would be pleased that I saw a sitting senator with a 50-percent range on a head-to-head matchup with the Republican candidate at this early stage. It suggests there is an opportunity and there may be some vulnerability.
"If you were Manchin, you would love to see that number be 55 percent, 58 percent."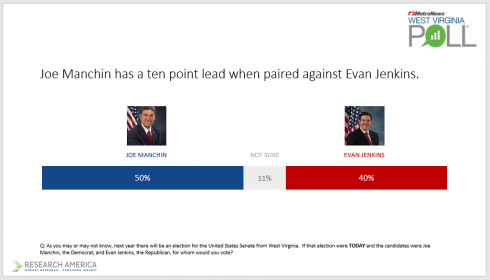 Of course, all this is still a long way off.
The primary election in West Virginia is May 8, 2018. The general election is Nov. 6, 2018.
Sabato's Crystal Ball, a political prognostication site, has West Virginia as "leans Democratic." Cook Political Report, another political prognosticator, has West Virginia as a tossup. 
"Manchin is sort of unexpectedly — according to many analysts — coming out ahead at this time. The gap is closeable," Rupp said.
"He's vulnerable but he's surprisingly ahead and I think the reason is familiarity He's a known quantity, and he's been very careful."
The West Virginia Poll resulted from interviews with 400 likely voters in West Virginia conducted between August 11-20.
Likely voters in all 55 West Virginia counties were represented in the survey, modeled to the number of registered voters based on data from the West Virginia Secretary of State's office.
"I'm not surprised that it's about 10 percentage points difference at this early stage," Repass said.
"Joe Manchin is a two-term governor, a popular senator; yes, he's fighting headwinds in the Democratic Party, but he is one who has found a way to walk that tightwire and communicate with the West Virginia voter in a way that resonates with them. It's a difficult balancing act, but he's been able to accomplish that."
The 2018 race for U.S. Senate is already heating up through fundraising efforts and advertising. The race seems destined to capture national attention.
"This whole story could turn when you have both national parties literally take over the campaign with millions of dollars in advertising," Rupp said.
Much of the effort during the election cycle will be to win over those who currently describe themselves as "not sure."
The West Virginia Poll asked those 11 percent in both theoretical matchups which way they currently lean.
In the case of Jenkins versus Manchin, there was a near even split among leaners — 21 percent for Manchin and 22 percent for Jenkins with most undecideds saying they're not ready to lean one way or another.
In the Morrisey matchup, Manchin currently gains 17 percent of leaners with 20 percent going for Morrisey. Again, most of the undecideds remain undecided.
Rupp called both Jenkins and Morrisey tough campaigners who have been tested by high-profile races.
"Morrisey did do statewide against strong competition, and Jenkins is known," Rupp said.
Of course, Morrisey and Jenkins will first take on each other. Their primary battle is likely to generate name recognition and familiarity for both, but it's possible that could backfire if the tone turns particularly negative.
"The danger is, the Republican party finally has a chance to sweep the Senate and the irony is they had a bench that was too weak. Now they have two good candidates, but they may bloody each other coming into November," Rupp said.
Congressional makeup
Despite the edge that Manchin has, most of those who responded to the West Virginia Poll said they would prefer a Republican majority in Congress.
Forty-seven percent of those responding said they would prefer Republican control of Congress versus 36 percent who would prefer Democratic control of Congress. Eighteen percent said they are not sure.
That differs from national poll results, which show 47 percent preferring a Democratic-controlled Congress versus 43 percent preferring a Republican-controlled Congress.
West Virginia jobs of the future
What jobs will boost West Virginia's economy in the future?
Poll respondents were asked to anticipate which three sectors will generate the most job growth in West Virginia during the next decade. Perhaps unsurprisingly, two of the top four were traditional West Virginia extractive industries.
Forty-two percent said health care services.
Thirty-three percent said oil and natural gas.
Thirty-one percent said coal mining.
And another 31 percent said construction.
At the bottom of the Top 10 was government with 8 percent.
Currently, the U.S. Bureau of Labor Statistics shows West Virginia's top economic sectors as government (153,500 jobs); education and health services (133,300 jobs); and trade, transportation and utilities (130,500 jobs).
The bureau lists mining and logging with 21,800 jobs — near the bottom of the state's economic sectors.
Coming Tuesday
Will West Virginians vote for or against the road bond?
Methodology
Results of this edition of MetroNews West Virginia Poll are based on interviews conducted between August 11-20, 2017 with a sample of 400 likely voters in West Virginia including registered Democrats, Republicans, Libertarian, Mountain Party, and unaffiliated or independent voters.  Data collection methods used included landline phone, cell phone, and opt-in Internet panel.  Each data collection method has inherent strengths and weakness.
Likely voters in all 55 West Virginia counties were represented in the survey modeled to the number of registered voters based on data from the West Virginia Secretary of State's office.
When using multiple data collection methods, it is not appropriate to apply a probability-based margin of error to interviews completed.  However, applying statistical tests of significance to each question asked at the 95 percent confidence interval yields an overall statistical error of +/- 4.9 percentage points based on the 400 interviews.  The 95 percent confidence interval varies by question.
The purpose of the MetroNews West Virginia Poll is to provide a snapshot of opinion and timely voter views in the Mountain State.  The media sponsor of the West Virginia Poll is MetroNews, the statewide radio network owned by West Virginia Radio Corporation.
Rex Repass is director of the West Virginia Poll and president of Research America Inc. Repass is responsible for questionnaire design, the respondent screening and selection process, data tabulation, statistical analysis, and reporting of results.
The MetroNews West Virginia Poll is a non-partisan survey of public opinion conducted by the Repass and Research America Inc. The West Virginia Poll has been directed by Mr. Repass and conducted periodically since January 21, 1980.  The name The West Virginia Poll is a registered trademark Research America Inc., all rights reserved. For more information, see www.wvpoll.com.