KANSAS CITY, Mo. — The final seconds of the Big 12 tournament sent Kansas coach Bill Self soaring. He high-fived assistants, hugged his seniors and thrusts both fists into the air, screaming "ATTA-BABY!" after an 81-70 victory.
The Jayhawks trailed West Virginia by eight points early in the second half and climbed ahead. Then they fell behind by seven with under 10 minutes to play and answered with a 10-0 run.
"When they had a chance to probably distance themselves we made a lot of great plays to get right back in it," Self said. "We played about flawless for the most part down the stretch."
As crucial as the streak of 14th regular-season titles seemed to the program and its fans, the icing of a tournament championship carried its own sweetness, particularly with the absence of Udoka Azubuike limiting Kansas to a seven-man rotation.
"That's as well as we played maybe all year long," Self said. "We needed something like this.
"I think this definitely validates what happened during the regular season. Nobody can say that Kansas caught a break or was lucky this year. We were able to validate winning (the league) by two games by winning this."
West Virginia awaits NCAA position
Once ranked No. 2 in the nation, the Mountaineers (24-10) have gone 10-9 since. They'll likely by a 4- or a 5-seed in the NCAAs.
Coach Bob Huggins isn't one to sweat the seeding.
"I used to care, but I don't care anymore," he said. "We're going to have to play somebody good either way."
His senior guards Jevon Carter and Daxter Miles have experienced two Sweet 16s, tempered by one brutal first-round upset against SFA. Huggins suggested this team has the moxie to make a run.
"We've beaten the No. 1 seed earlier in the year. And what did we have, 11 wins or something like that, in the hardest league in the country? I think we'll be OK."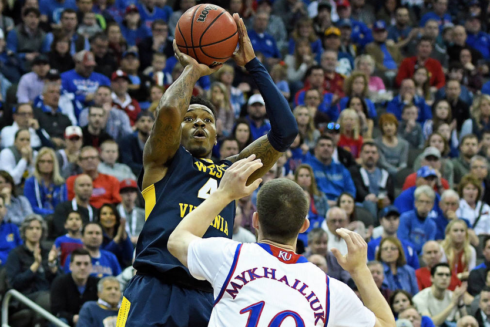 Miles explodes
The runner-up finish didn't satisfy West Virgina's, but the offensive surge of Daxter Miles could be good news entering the postseason.
He averaged 22 points in the tournament — the best three-game stretch of his career — while making 15-of-27 attempts from 3.
"When the ball's going in it's great, but Dax wasn't going to make every one," Huggins said.
Though Miles joined Carter on the all-tournament team, he summarized the week like this: "It ain't about me. It's about my guys and trying to what's best for them, trying to win."
De Sousa's breakthrough
Silvio De Sousa's freshman season began in January after he graduated high school in December. His elite talent hadn't shone through until Saturday, when he stepped in to battle West Virginia's Sagaba Konate.
Making a series of dunks and putbacks, De Sousa went 8-for-8 from the floor. His 16 points and 10 rebounds — achieved in only 26 minutes — gave Kansas the interior presence it needed with Udoka Azubuike sidelined.
"It's huge," said Jayhawks guard Devonte' Graham. "Everybody is happy for him, because he's been struggling. It's hard to come in in the middle of the season straight out of high school and get all this stuff thrown at you, all the plays, how fast we play. It's not like high school."
De Sousa entered the night averaging 2.8 points and 2.6 rebounds.