CHARLESTON, W.Va. – Representatives of West Virginia's casinos and professional sports leagues – along with officials from West Virginia and Marshall universities – gathered at state Lottery headquarters for a closed-door meeting to talk about sports gaming.
The state Legislature passed a sports gaming bill this past regular session, looking toward the possibility of broader legality nationwide.
Gov. Jim Justice has talked about tinkering with the law during a special session, possibly later this month. He let the bill pass into law without his signature because of his family's connection to the casino at The Greenbrier.
The professional sports leagues have been pushing for an integrity fee, which would be their cut of the handle if sports gaming goes into effect. The handle is all of the wagers taken. It's not the same as the revenue, which is what remains after winnings have been paid out.
Lawmakers have not been particularly interested in an integrity fee – and with no big league teams in West Virginia, the pro leagues have had little leverage.
But West Virginia and Marshall expressing concerns may nudge the argument.
Wednesday's gathering, which lasted from 10 a.m. to just after 5 p.m., included WVU vice president Rob Alsop, WVU Athletic Director Shane Lyons and Marshall Athletic Director Mike Hamrick. Also there was Tom McMillen, president of Lead1 Association, which represents college athletic directors.
As states consider an expansion of sports betting with the possibility of an anticipated ruling by the U.S. Supreme Court, colleges are starting to assert their positions.
Colleges have started expressing concerns that an embrace of sports betting in more states could increase the likelihood of athletic department violations.
Some individual colleges have also worried about the NCAA forbidding championship even in states with legalized sports betting.
Universities like West Virginia and Marshall could embrace an integrity fee to fund greater safeguards.
"We've been looking at it from a compliance perspective – what we need to do to make sure we're educating and monitoring and working with our student athletes to put them in the best position going forward," said Rob Alsop, a vice president at West Virginia University who attended Wednesday's meeting.
"Today was really just a discussion about our concerns and making sure we do the best we can for the university."
The stakeholders meeting at West Virginia Lottery was a who's who of power players.
Bray Cary, a citizen volunteer who works for Governor Justice, gathered the groups. In the afternoon, several in attendance said, Cary sent the casino representatives and the professional sports leagues officials to separate rooms and conducted a kind of shuttle diplomacy.
Governor Justice himself called in to the meeting in the morning, urging cooperation among attendees.
The stakeholders meeting also included representatives from Major League Baseball, the National Basketball Association, the National Hockey League and the Professional Golf Association.
Larry Puccio, a registered lobbyist for Major League Baseball and the NBA, also attended. Puccio was also leader of Justice's transition team and lobbies for The Greenbrier, which has a casino and is owned by Justice's family.
"I think it really was a productive day, and everybody worked very hard and worked together," Puccio said as he walked to the parking lot at the end of the talks. "Everybody worked very hard and worked together, and I just think it was a great day."
Representatives came from Wheeling Island Hotel-Casino Racetrack, Mountaineer Casino, Racetrack and Resort, Mardi Gras Casino and Resort, Hollywood Casino at Charles Town Races and The Casino Club at The Greenbrier.
John Cavacini, president of the West Virginia Racing and Gaming Association, was there too.
There were a few staffers from the Legislature, which may be expected to revisit sports gambling later this month. Delegate Roger Hanshaw, vice chairman of the House Judiciary Committee, was the only elected official there.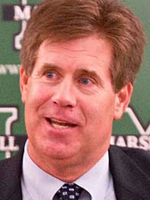 Hamrick, Marshall's athletic director, said the day presented an opportunity for the universities to express their concerns.
"The reason why I'm here – and why Shane Lyons is here – is because if sports betting becomes reality in the state of West Virginia then Marshall athletic events and WVU athletic events, people will be able to put wagers on them.
"Our sole purpose here, whether we're for or against it, is if it happens we just want to make sure that everybody understands that would create potential problems, issues for us that are very manageable."
Sports betting on college athletics events already exists, of course, but not In an official way, right in the state, the way West Virginia's law envisions.
"Legally in West Virginia, guess what – it's right in our face, so we've got to deal with it," Hamrick said. "We've got to educate our kids, we've got to be in compliance, we've got to police everything. So that's going to cost us additional dollars within our athletic programs."
Hamrick noted that he spent six years as the athletic director for the University of Nevada at Las Vegas, smack dab in the betting capital of the country.
"I dealt with it every day," Hamrick said. "You could bet on UNLV athletic events legally and so the last thing I wanted was our players involved in that. It was fine, but you've got to stay on top of it every day."