CHARLESTON, W.Va. — State Transportation Secretary Tom Smith wouldn't speculate Monday on whether expensive bids on a key Roads to Prosperity project is an indication the program may produce fewer projects over the next several years.
"I'm not going to speculate on where we would go today. What I'm saying is if things cost more we'll have to adjust the budget an act accordingly," Smith said.
The bids in question are for the Interstate 70 project in Wheeling that includes several bridges and other work. Smith said the project has been enhanced since it was originally announced last year so he knew it was probably going to top the original projected $170 million price tag. Bids came in about $100 million more than expected.
Smith's comments Monday came after Gov. Jim Justice announced two new Department of Transportation initiatives in a late morning news conference at the state capitol.
According to Justice, the Drive Forward WV website will give residents detailed information about individual projects in the Roads to Prosperity program.
"You'll be able to go to it and monitor everything that's going on," Justice said.
The information includes costs and schedules.
Justice also announced the formation of the Highways Response Team called SWAT, Safety With Action Today. It will give residents the opportunity to report road problems to the DOH with an answer back within a week. Justice said the DOH can't be everywhere.
"As much as we would like to be able to inspect every foot of every road, the best inspectors we have are you," Justice said.
Residents can make a report by calling 1-833-WV-ROADS or by completing a form online at transportation.wv.gov/wvroads or emailing wvroads@wv.gov
"The transparency and responsiveness is wonderful with both of these initiatives," Smith said.
After the governor left the news conference, Smith took questions about the recent bid opening for I-70 project. He didn't rule out a possible rejection of the bids.
"We're looking at those bids to decide how we feel about them face to face with those rapidly changing market conditions," Smith said. "We know we have to get that work done–we will find a way to get it done. We haven't made a full decision yet on what to do with those bids."
House of Delegates Minority Leader Tim Miley, D-Harrison, had a letter hand-delivered to the governor's office before Monday's news conference expressing concern about the I-70 bids and the possibility that it may be a trend for the Roads to Prosperity program that got approval in a statewide vote last October.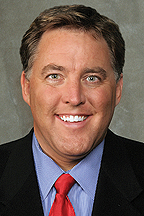 "I sincerely hope that the public was not misled on the costs and the number of the projects that the state will be able under the Roads to Prosperity program," Miley wrote. "If the project costs were underestimated to make it appear that more projects would be included in the Roads to Prosperity program than what you knew to be accurate, I believe that you and your administration should be held accountable for either intentionally, or negligently, deceiving the public simply to elicit support."
Smith said it's too early to tell how the prices will change the program if it changes it at all.
"This is a multi-year endeavor. President Trump's initiative on infrastructure may help us there too. If we have prices that go up or things that go in favor we'll try to balance things to get the maximum amount of work done that we can," he said.
Smith said construction inflation increased in the past year by 8.8 percent and the new Trump administration steel tariffs has impacted the price of steel but he said the bond market has reacted favorably to the West Virginia bonds purchasing them at a premium level. He said a recent expected $800 million bond sale turned into $900 million because of the interest by purchasers.
Smith said there is currently $1.2 billion in the bank for road construction and bridge projects and $300 million in contracts already out on the streets.