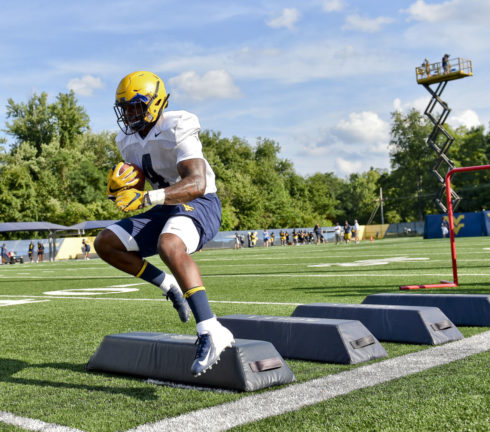 MORGANTOWN, W.Va. — For the past two seasons he has been the top-ranked high school running back in Delaware and then Pennsylvania. Soon we'll see where Leddie Brown fits in at West Virginia.
The four-star prospect, who's now part a four-man rotation, held his own during preseason camp. The ensuing two weeks of game preparation for Tennessee will further distill how much of the offense Brown has learned and how much the staff trusts him executive it.
The feedback looks promising.
"Being here this summer, I think he's got it," offensive coordinator Jake Spavital said. "He jumps off on tape."
When Brown arrived at 211 pounds and nearly 6-foot tall, the other running backs in the room didn't see a typical recruit.
"Pretty big for a freshman," said junior Kennedy McKoy. "It was fun to see him in the pads getting after it."
Like McKoy, Brown's high school offenses utilized him in the passing game, especially in Smyrna, Del., where as a junior he piled up 458 yards and seven touchdowns receiving. Even as West Virginia retracts from splitting running backs into the slot, Brown's pass-catching ability could factor into the screen game.
"He brings it in real smooth," McKoy said. "You wouldn't think he was trying to strain or anything."
While West Virginia has packages tailored to certain backfield combinations, Spavital defers most of the playing-time decisions to first-year running backs coach Marquel Blackwell.
His decisions boil down to Brown and McKoy, along two 5-foot-9 guys — junior Martell Pettaway and redshirt freshman Alec Sinkfield.
"Leddie's a special kid. He shows so many things that are natural," Blackwell said. "You just want to do right by him and make sure he gets a little bit and a little bit and continues to build.
"With his approach and the way he goes about following the older guys, you can see he's got something in him that you need."
Ultimately, Brown's usage will depend on his ability to pick up blitzers and keep Heisman candidate Will Grier upright in the pocket.
"Everybody can run the ball — you're here because we know you can run it — so the pass protection is typically what separates you from a starting job," Spavital said.
"There's a physicality aspect of it because you're in one-on-one battles with linebackers who are blitzing from depth. You've to to be able to stick your nose in there and fight."