INSTITUTE, W.Va. — West Virginia State University honored one of its own Saturday with a statue and scholarship fund.
University officials unveiled a life-size statue of NASA mathematician Katherine Johnson during an afternoon ceremony. WVSU President Anthony Jenkins, NASA astronaut Dr. Yvonne Cagle and Johnson's daughters, Joylette Hylick and Katherine Moore, shared remarks on Johnson's impact.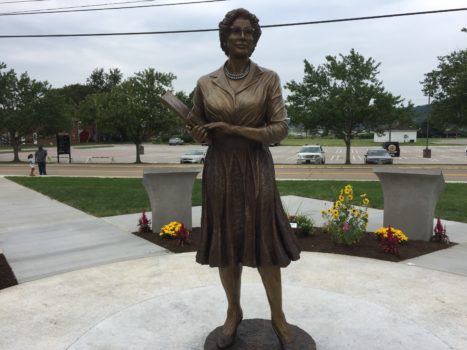 Johnson, who turns 100 Sunday, received the Presidential Medal of Freedom in 2015 from President Barack Obama. Her story has been more widely publicized in recent years with the book about her, "Hidden Figures" and the movie of the same name.
The White Sulphur Springs native first came to the State campus at the age of 10 when there used to be a high school as part of the campus. She enrolled in college at age 15. She graduated from State with honors in 1937. She had earned degrees in mathematics and French.
She later worked for NASA, providing calculations that helped the space agency with all of its major missions up to and through the Space Shuttle program including key work for John Glenn's orbital mission in 1962.
Artist Frederick Hightower, a WVSU graduate and native of Boone County, created the seven-foot-tall bronze statue that depicts Johnson working in mathematics at NASA. He said it was a great honor to be commissioned for the work.
"I am very appreciative to WVSU for giving me the opportunity to create the monument sculpture of Mrs. Katherine Johnson," Hightower said. "This sculpture being on our campus will not only honor the great accomplishments of Mrs. Johnson, but will also bring national attention and recognition to one of America's great HBCU's, West Virginia State University."
An endowed scholarship in Johnson's name was also announced, as were the first two scholarship recipients.
U.S. Sen. Shelley Moore Capito, R-W.Va., announced Friday a bill honoring Johnson through renaming the NASA facility in Fairmont after her.
"I cannot think of a more fitting tribute than to rename NASA's only facility in West Virginia after her," she said. "This would be a living tribute to the agency she served, the state she was born in, and the missions she championed and helped make possible."
The statue is located at the WVSU campus quad between Cole Complex and Dawson Hall.