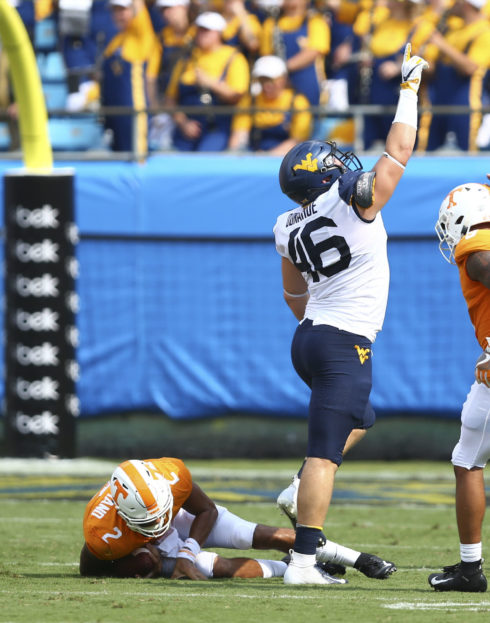 — By Sean Manning, The Dominion Post
CHARLOTTE, N.C. – After 8:30 was chewed off the clock to start the second quarter, the West Virginia defense had Tennessee in a fourth-and-goal from inside the 2-yard line, and defensive coordinator Tony Gibson thought he had the perfect call lined up.
"We got that play off the Colorado State film," Gibson said. Mike linebacker Dylan Tonkery "had the fullback and he ended up being perfect, but he had to cover the fullback and the tight end because of a blown assignment."
The Vols scored when tight end Anderson Wood was wide open in the back of the end zone following play-action rollout by quarterback Jarrett Guarantano. Although the execution wasn't what Gibson wanted, his glimpse into the Colorado State playbook from last season helped him make the call. Tennessee assistant coach Will Friend joined coach Jeremy Pruitt's staff this offseason and brought some offensive philosophy with him.
Not only that, but offensive coordinator Tyson Helton came to Knoxville after spending the last two years at USC.
That entirely new offensive coaching staff made preparing for the Vols challenging. But West Virginia's defense gladly took the result: A 40-14 win in which the Vols were held to 4.8 yards per play.
"We have guys from Alabama, Georgia, USC, Colorado State and a whole bunch of places coming together and it's hard, man," defensive end Reese Donahue said. "It's almost like studying for three different teams. With this first week, we've been preparing for a while and we saw a lot of stuff that we recognized and some stuff that they tweaked a little bit."
Donahue, the junior from Cabell Midland, made his 14th consecutive start and registered his second career solo sack in the first quarter.
Despite all the uncertainty, Gibson said his unit wasn't caught off guard by anything Tennessee tried.
"I thought that was gonna happen — they would run a lot of lead zone and inside zone," he said. "We always seem to play teams breaking in two coordinators to start the year lately, but we were ready for this one, no doubt."