CHARLESTON, W.Va. — One day after lawmakers asked tough questions about leadership at Lottery, Gov. Jim Justice has named John Myers as director of the agency.
He replaces Alan Larrick, who resigned Sept. 1, right as sports betting was making its debut at West Virginia casinos. Doug Buffington, deputy secretary for the West Virginia Secretary of Revenue, served as the interim director.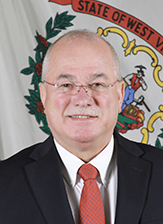 Myers has been serving as Secretary of Administration for the Justice Administration, but he has a long work history with Lottery.
He worked at the West Virginia Lottery from 2008 to 2017 and was acting director from 2015-2017. Before working at the agency, Myers was the manager of corporate administration for Toyota Motor Manufacturing in Buffalo, West Virginia.
Myers returns to Lottery amid tumult.
Lawmakers on Monday questioned Buffington, Lottery's interim director, about the leadership of the agency, what's the status of the general counsel and if he understands lawmakers had no intention of imposing a financial arrangement between leagues and casinos.
"There are a lot of rumors floating around. The rumors are still there," said Senate Finance Chairman Craig Blair, R-Berkeley. "Some of them I know the answers to on what's going on, and it's just disturbing the hell out of me right now."
Besides Larrick's departure, Lottery has been without its general counsel, Danielle Boyd, the agency's most knowledgeable resource on sports betting. Lawmakers have said Boyd has been forced out by the Justice administration.
"I've not seen in here the longtime general counsel. It seems like it's another agency that may be in dysfunction. Can anyone let us know generally what's going on there?" asked Senator Corey Palumbo, D-Kanawha.
Buffington responded, "I'm not aware of why Mr. Larrick stepped down. I was told that he left and I was asked to step in and help."
Palumbo then asked, "Is Danielle Boyd still at Lottery or is she gone as well?"
Buffington said, "Danielle Boyd still works for the Lottery."
Blair then followed up: "Tell us what the employment status is right now of Danielle Boyd."
Buffington responded, "She's still employed by the Lottery."
Blair: "Is she suspended in any way?"
Buffington: "She is currently an employee. She is not available today and we are looking at concerns."
Blair then expressed frustration that the top leaders at Lottery who worked with lawmakers on the sports betting bill are not around.
"So the people that could answer the questions aren't here," he said. "That bothers me a little bit."
West Virginia is among the first states to roll out sports betting at its casinos.
West Virginia's Legislature overwhelmingly passed its sports betting law this past legislative session, anticipating a ruling by the U.S. Supreme Court to allow for broadened betting on sports events.
The rollout at West Virginia's five casinos has been under emergency regulations.
Now the agency is working on legislative rules meant to govern sports betting for the long-term.
A comment period has just concluded. Professional sports leagues including Major League Baseball, the National Basketball Association and the PGA Tour have asked for change to the rules regarding bets on real-time aspects of games.
Those, the leagues say, should be determined only by statistics based on official league data.
The data would be available based on what Lottery would determine to be "commercially- reasonable terms."
Lawmakers have been clear for months that they want no part of enforcing any kind of financial relationship between the casinos and the pro sports leagues.
Blair said rewriting government rules to make casinos enter contractual agreements with professional sports leagues would send a heavy-handed message to other private businesses considering investment in West Virginia.
He said that message should go "to anybody who's listening down in the governor's office."