MORGANTOWN, W.Va. — Since Miami debuted its turnover chain, college football defenses from every time zone have incorporated sideline gimmicks ranging from baronial to bare-bones.
Belts (Alabama), beads (Tulane), trash cans (Tennessee), planks (Kennesaw State) and robes (Memphis). There's even a Boise State throne.
West Virginia joined the prop parade with its coal miner's helmet.
Free safety Kenny Robinson donned the hat during his two-interception first half against Texas Tech, and cornerback Keith Washington wore it well after his game-clinching pick-six.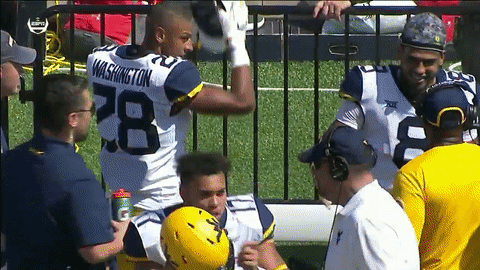 Fans had long been suggesting various ways WVU's defense could join the trend. After the Mountaineers generated only one turnover through two games, defensive coordinator Tony Gibson was ready to consider it.
"We broke it out against K-State, and we've had four since then, so we'll keep it," he said.
Robinson called the miner's helmet a motivating factor, saying everybody wants to autograph it and have a picture wearing it.
(Yes, Reese Donahue became the first recipient after a fumble recovery against Kansas State, but television cameras and Twitter didn't capture his moment.)
Defensive upperclassmen approved the prop idea — the latest nod to the state's indigenous industry. There's a coal wall inside the locker room and huge chunk that players touch during the pregame Mantrip to the stadium.
"I thought it was sweet," said linebacker David Long.
So where did the miner's hat come from? Gibson credited Steve Antoline, for whom the WVU practice fields are named.
"Some people say it looks like we bought it from Walmart, but we didn't," Gibson said. "It's a real one. The light works."