CHARLESTON, W.Va. — House of Delegates Speaker Roger Hanshaw and House Minority Tim Miley have had a few discussions about pursuing the elimination of the state's business inventory tax during the upcoming regular legislative session.
Miley said there's agreement it's a bad tax but the issue is how would the revenue be replaced.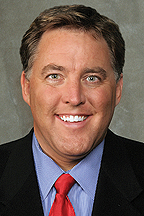 "That's always been the big conundrum," Miley, D-Harrison, said during a recent appearance on MetroNews "Talkline."
The measure taxes a business' inventory and equipment even if it's not being used. It brings in as much as $400 million into the state's coffers annually with most of money going to individual counties and county school systems.
Miley said eliminating the tax won't have the support it needs from county leaders unless there's something that replaces the revenue.
"Unless and until there's a replacement source of funding, most every county and the countywide elected officials will come out against it," Miley predicted. "An alternative business tax that's fair, reasonable and competitive would create a better chance of getting it passed."
Hanshaw, R-Clay, said the Republican leadership plans to work with Democrats to address the issue.
"We do intend to talk about that at length. We know that's an issue we have to do in bipartisan fashion," he said.
A change would require an amendment to the state Constitution that would require a two-thirds vote in the legislature before it can go before voters.
There's already some opposition to looking at raising other taxes. Miley said the Farm Bureau fears property taxes might be one of the options to cover the revenue.
"We need to tread cautiously on this," he said.
A phase out of the tax over a several year period may be one option.
Newly appointed state Commerce Secretary Ed Gaunch calls the inventory tax "the most onerous tax" the state has on the books.
"You can have a business right now in West Virginia, you can be losing money, and still owe those taxes," Gaunch said.
But Gaunch said he's not in favor of doing away with the inventory tax and raising another tax on consumers.
"We need to find another way to phase out that tax," Gaunch said.
Hanshaw said dealing with the tax is a "priority" for the upcoming 60-day session.
"I think it's time. I think it's time that we actually move our economy where it's going not just trying to play catch up," he said.
Miley said this can't be a rush job.
"It's going to take a lot of thought, a lot of input and a lot of planning," he said.
The 60-day session begins Jan. 9.