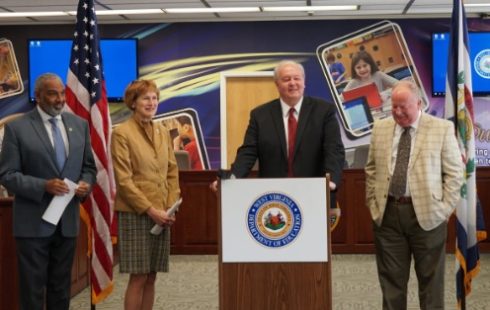 CHARLESTON, W.Va. — The state Department of Education will host seven public forums in the coming weeks on the education reform issue, state School Superintendent Dr. Steve Paine announced Monday.
The forums, backed by Gov. Jim Justice and legislative leaders, will be part of a listening effort that's taking place in connection with the legislature's special session on education betterment.
Lawmakers recessed the special session, which was called by Justice, minutes after their regular session ended last Saturday night. They will return to Charleston in a few months once they have talked to stakeholders on the education reform issues. The Department of Education forums will provide another way for residents to be heard, Paine said.
"I really hope this is an opportunity to take something that was fairly unpleasant during the session and turn it into a positive for everyone, most importantly our students," Paine said.
House of Delegates Speaker Roger Hanshaw said he expects the 100 members of the House to have lots of meetings with teachers, parents, business owners and students.
"We're going to spend the next several weeks listening to people. It's a concerted statewide effort to reach out to all of the parties that have any connection whatsoever to education," Hanshaw said during an appearance Monday on MetroNews "Talkline."
Paine said the Department of Education forums will be led by an experienced facilitator.
"We're not going to do an open mic where the loudest voice wins," Paine said on "Talkline." "We're going to set the charge in a large group and then break into (smaller groups). Much like we did in the situation where we resolved the issue in Nicholas County with the facilities. That process was fabulous."
The Federal Emergency Management Agency used a mediator to help get the state, the Nicholas County Board of Education and residents on the same page when it came to replacing schools destroyed in the 2016 flood.
Paine said his department will issue a report to the governor and the legislature following the forums. He said the report will highlight research-based strategies that will improve student achievement.
State Senate President Mitch Carmichael said he's glad there's going to be a lot of public discussion on the reform issue but he said the state's education system has been studied many times with the same results. He said it needs fixed.
"Much of it comes down to the political will of whether or not you can do these things. Are we going to put our students first or are we going to listen to the special interest groups?"
Carmichael and a majority of senators approved the controversial education reform bill, SB 451, during the legislative session. The bill caused a two-day education workers strike. It eventually died in the House after being shelved for no further consideration.
Carmichael and senators who supported the bill have been criticized for crafting an omnibus bill without getting input from stakeholders. Carmichael said Monday on "Talkline" the special session the governor called is proof the reform bill was the right thing to do.
"I would say that because this is occurring—it's evidence that our strategy and our concept of improving student performance and focusing on education was spot on and 100 percent correct," Carmichael said.
Paine said there were several good things in the education reform bill that deserve more discussion and eventually probably should be approved by lawmakers but he doesn't want two of the more controversial issues, education savings accounts and charter schools, to dominate the discussion at the public forums.
"I hope those two issues do not distract from a valuable opportunity," Paine said, adding he would like to try a "couple" of charter schools under the right circumstance to see if they would work.
Paine also expects other issues of reform to be discussed like having master teachers, more leadership development for principals and a one-time stipend to pay teachers more if they up their certification to teach algebra and geometry.
Hanshaw said he expects delegates to hear more of what they heard from teachers during the session.
"The nuts and bolts bureaucracy of education reforms need to be made," he said. Things that will help teachers teach.
The House passed a clean pay raise bill for education workers during the session but it wasn't taken up by the Senate. The budget bill both bodies passed includes money for a pay raise for those workers but it hasn't yet been allocated. That's expected to happen during the special session. Hanshaw predicted that won't be the only bill to pass.
"I can assure you it won't just be a pay raise bill," he said.
The Department of Education forums will begin next Monday evening at 6 p.m. at Cabell Midland High School in Cabell. Other locations include: Capital High School in Kanawha County, Woodrow Wilson High School in Raleigh County, Robert C. Byrd High School in Harrison County, Wheeling Park High School in Ohio County, Berkeley Springs High School in Morgan County and Mount View High School in McDowell County. The dates and times will be announced in the near future.
WV State School Superintendent, Dr. Steve Paine, talks with @HoppyKercheval about the special session's focus on passing education legislation. WATCH: https://t.co/wkudfIAoe1 pic.twitter.com/SVVoa8Fv2T

— MetroNews (@WVMetroNews) March 11, 2019