CHARLESTON, W.Va. — Sports betting won't be available at two casinos in West Virginia during at least the opening rounds of the NCAA Tournament.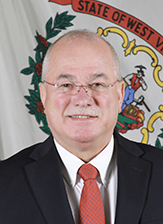 State Lottery Director John Myers announced Wednesday both retail locations and the betting app for Delaware North properties Wheeling Island Casino in Wheeling and Mardi Gras Casino in Cross Lanes remain offline because of a contract dispute that continues between the company's management services provider and a third-party, technology vendor.
The plug was first pulled on sports betting at the two facilities March 6. Myers said Wednesday Delaware North had been "very active" in trying to mediate a settlement.
"I know that they are talking. I can't tell you they are talking calmly at this point," Myers said.
The companies involved in the dispute are both based overseas which adds a layer of difficulty, according to Myers.
"Miomni Company is located in the United Kingdom. The third party is in Cyprus. We've got international law between the various countries that's causing problems," Myers said.
Financial numbers for February released Wednesday during the state Lottery Commission's monthly meeting in Charleston show the BetLucky app that Delaware North had developed did very well. The app brought in more than $210,000 in wagers at Mardi Graw last month and nearly $145,000 in bets at Wheeling Island. The app betting outnumbered the money placed down at the sportsbook locations at both casinos.Myers said the timing of the dispute is unfortunate for Delaware North.
"With not being able to do the NCAA Basketball Tournament–we were all looking forward to seeing what those results would be," he said.
There are currently no mobile apps available for the other three casinos with sports betting, Mountaineer Racetrack and Casino, The Greenbrier and Hollywood Casino at Charles Town. Myers said Wednesday ongoing questions about a separate issue involving the federal Wire Act at the U.S. Department of Justice is holding things up on that front.
"It's kind of given everybody caution on how to move forward until we can get that resolved," Myers said. "We are doing everything we can to try and work through that. We've been working through our national organization to try and get some idea on how the DOJ decision is going to come down."
Without an app, Mountaineer saw more than $183,000 in bets placed on sports on-site in February. Hollywood Casino at Charles Town had just more than $131,000. The Greenbrier lost more than $10,000 on sports betting at its retail site last month.
Myers said the sportsbooks at those three casinos and the casinos themselves want to have the mobile app as quickly as possible. He said it's also important for the state Lottery.
"I wouldn't say it's a sense of urgency but it's certainly high on our priority list to get done," Myers said.
Total taxable revenue for sports betting in West Virginia in February was $700,028.92. The state's share from a 10 percent privilege tax was just more than $71,000.