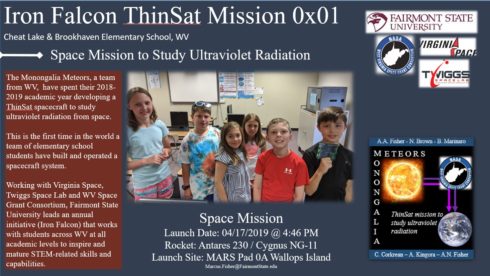 CHARLESTON, W.Va. — Some elementary school students from Monongalia County are making history this week.
The members of the group called "Monongalia Meteors" — 3rd, 4th and 5th graders at Cheat Lake Elementary School and Brookhaven Elementary School — represent the first in their age groups to build such a spacecraft, according to organizers.
On Wednesday, their ThinSat Spacecraft was set to launch on board the Cygnus NG-11, a resupply trip from Northrop Grumman to the International Space Station.
En route, that spacecraft, described as being "a little larger than a piece of bread," was to be dropped into Earth's orbit.
By Thursday morning, the first data from it could be available.
"The kids will start learning how to do data analysis — how do they analyze their data now and how do other scientists analyze data to actually answer the science questions that they had posed," explained Marcus Fisher, an assistant professor of information management systems at Fairmont State University.
He served as an adviser to the students who finished the spacecraft construction last summer and have been waiting on a launch date since then.
Twiggs Space Lab provided the spacecraft components with support from the Virginia Commercial Space Flight Authority. The West Virginia Space Grant Consortium was also involved.
Originally, the students set out to study the effects of ultraviolet radiation — UVA and UVB — on weather.
Data gathered from space outside the atmosphere will be compared with data collected in the atmosphere previously during balloon tests.
"They will be receiving other types of data well," Fisher said. "They'll be receiving GPS data, acceleration data, how the spacecraft is spinning, tumbling so they'll be angular rates and temperature data."
About seven days worth of data was expected before the spacecraft burned up in the atmosphere.
As of Wednesday morning, the launch time from NASA's Wallops Flight Facility in Virginia, located north of Norfolk, was scheduled for 4:46 p.m. on Wednesday afternoon.
Live feeds were to be available on NASA-TV and HERE.
Also making the trip were 91 similar spacecraft from high schools in Virginia.
After the work of the elementary school students, Fisher's goal for West Virginia was to take the spacecraft project, under the name the Iron Falcon Project, statewide with annual launches involving schools in many counties.
Eighteen schools had already signed on for the future.
Those interested in joining them can contact Fisher directly at mfisher13@fairmontstate.edu.
"It opens doors for these kids and, no matter what, they know they can do it," he said.
"They might have an interest in electronics and programming and cybersecurity — in these STEM-related disciplines — and, if they do, that's awesome because that helps West Virginia.