CHARLESTON, W.Va. — The state Lottery approved one-year licenses for five companies Wednesday in connection with sports betting in the Mountain State.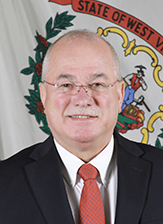 According to Lottery Director John Myers, most of the companies have been working with the state Lottery on providing mobile sports betting apps for some of the casinos in West Virginia.
"We've been working on the platform, how it's set up, where its servers are located, making sure they are complying with the Wire Act," Myers said. "We've made a lot of progress there in the last few weeks. Hopefully it won't be as long as it has."
Sports betting is currently available at Charles Town Casino, Mountaineer Racetrack and Resort Casino and the casino at the Greenbrier. A legal dispute has halted sports betting at Delaware North properties, Wheeling Island Casino and Mardi Gras Casino in Kanawha County.
Bet Fair Interactive (Fan Duel) and Crown West Virginia Gaming (Draft King) were among the companies to receive licensing approval Wednesday.
Myers said the Lottery and the casinos will know more about Wire Act issues on the federal level in the coming weeks. He said that has impacted the establishment of the mobile apps.
"There's been some hesitancy to jump into it but hopefully when we get a decision in the next few weeks they will feel more comfortable in going forward," Myers said.
Meanwhile, Myers said it's going to be a while before Delaware North can resume sports betting at its casinos. He said the company has to basically start all over after its dispute with Miomni–its former partner in the sports betting platform.
"They do. I think one of the concerns is do they have to completely separately with Miomni before they begin a new relationship," Myers said. "That's to be determined and it will be their legal staff that has to make that determination."
Delaware North filed a lawsuit against Miomni and its CEO Michael Venner last week in Delaware court.
The lawsuit alleges neither the company nor Venner told Delaware North it didn't own the intellectual properties that operated the platform. Delaware North said it only found out after the Cypress-based company that does own the platform, Entergaming, pulled the plug over a contract dispute with Miomni.
There's been no sports betting in the retail form or on the BetLucky app since early March. It's an unfortunate situation, Myers said.
"Part of what we were hoping to see if the impact the mobile app would have and that's kind of been taken out of the equation now and we're not able to see that. Although the expectation was it would have an impact," Myers said.
Sports betting brought in a little more than $196,000 to the Lottery in March. The total take by the casinos was more than $1.96 million. The state receives a 10 percent privilege tax. Wheeling Island and Mardi Gras took in more than $81,000 in in less than a week of mobile app operation last month.
Myers said the casinos are doing better with their video lottery machines. He said that could because patrons are coming there to bet on sports.
"Is that contributing to some of the better play we're seeing out the casinos this year? It may be a positive on that side too because we have the retail (sports betting)," Myers said.