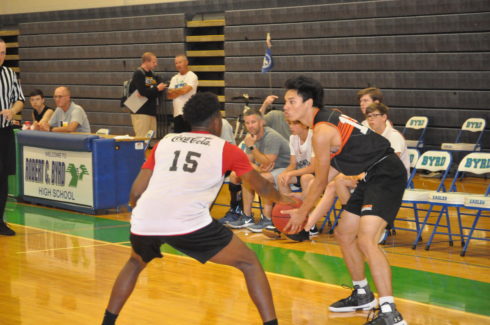 CLARKSBURG, W.Va. — The four highest-scoring guards from a near-unbeaten Martinsburg team last season weren't with the Bulldogs when they recently competed at Robert C. Byrd's Flying Eagle Shootout.
Class AAA first-team all-state selection Grant Harman and second-team all-stater Qualeke Bush graduated. Fellow guards Teddy Marshall and Anthony Smith are back, but both are devoting their attention toward football during the three-week period.
While that makes it more difficult for veteran Bulldogs' coach Dave Rogers to get a read on what his team will look like in the winter, such is reality at many schools — particularly one that hasn't lost a football game since 2015.
On the flip side, it gives other players a chance to show what they're capable of.
"We don't have any of our football players with us, but what that does is give these other kids an opportunity," Rogers said. "Basketball is a game that you have to play. You have to put a ball in your hand and get better. Some kids will be OK, because they're athletic. But they still won't be the player they could be if they put a ball in their hand more often. 
"But I'm pleased with our guys inside and I like what I'm seeing there." 
Marshall and Smith combined to average more than 18 points per game for last season's team, which finished 27-1. But much of the offense ran through Harman and Bush, two of the team's four double-figure scorers on average, with Marshall and returning forward Telryn Villa the others. The latter two were all-state honorable mention picks as juniors.
Villa and rising junior Tre Segar are now leading a frontcourt that lost starter Joe Bokey and reserve Cedric Bush, both of who played prominent roles last season.
"We only had three seniors working with us (last summer) and then we added Grant Harman. With a Grant Harman, he's going to play all sports and give you everything he's got all the time. 
"But with these kids, I like our club and we're going to get better. I like what I see and I see some good, positive things."
Segar is a likely candidate to play more minutes and increase his production, specifically offensively, from a season ago. He displayed his potential in the state title game loss to University by grabbing 17 rebounds, including 11 on the offensive end. 
"Tre and Telryn can score and it always helps to have some inside people that can score," Rogers said. 
Guards Jaylen Pooler and Garrett Stobbs, a pair of reserves who played sparingly last season, are getting plenty of opportunities during the three-week period. 
In addition to its three games at the Flying Eagle Shootout, Martinsburg went to team camp at the Naval Academy and will participate in the Mohawk Shootout in Morgantown.
"We had a great senior class with four nice guys, but we'll have some players step up and take their spots," Rogers said. "I like the discipline at the team camp and it was a good, solid camp for us. We're working out a couple hours a day trying to hone our skills. It'd be nice to be able to do this all the time, at least get them in the gym, but this is good for us."