CHARLESTON, W.Va. — The Lottery Commission voted Wednesday to relicense the five casinos doing business in West Virginia. All five have paid their annual licensing fee.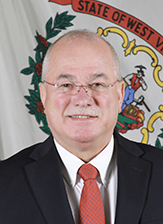 The commission took votes on each casino individually after getting updates on the financial status of the operations from an outside auditing firm.
"All casino licenses were paid. All of the license fees were paid," state Lottery Director John Myers told reporters after the meeting.
The annual licensing fee is $2.5 million for Mountaineer Casino in Chester, Hollywood Casino at Charles Town, Wheeling Island Casino and Mardi Gras Casino in Cross Lanes. The casino at The Greenbrier's fee is calculated annually. This year's fee is $500,000.
"We're glad to see they're all well enough to re-up for another year," Myers said.
The auditing firm passed out reports on the financial information concerning the casinos and their parent companies. The firm then gathered up the reports after the meeting. They were not released to the public.
The auditors did make comments on the companies before the commission was asked to vote. Gov. Jim Justice and his family own The Greenbrier. The auditor said the company is still dealing with the 2016 flood and waiting on payment from insurance companies. The report said 2018 was the first profitable year for the casino at the resort.
The auditor didn't raise any financial red flags for the companies that own the other casinos.
Sports Betting
Lottery Director Myers also said Wednesday there's been no significant movement in the development of a sports betting app by the casinos and their vendors.
Delaware North, which owns Wheeling Island and Mardi Gras, has alerted the Lottery it plans o returning to sports betting after its fallout with Miomni took the BetLucky app offline. Myers said Delaware North is beginning the process all over.
Penn National, which owns Hollywood Casino at Charles Town, is continuing to work with its sports betting vendor on a new app. Myers said the app could be ready in a few months.
"The dates we're hearing now are probably in the fall. Anyone we talk to now is probably saying football season," Myers said.
Retail sports betting is available on site at Charles Town, The Greenbrier and Mountaineer.
Sports betting gross receipts for May in West Virginia were just under $800,000.