ARLINGTON, Texas – Big men don't sell, or so the old adage goes.
It's certainly what Colton McKivitz believed to be true until he was out for dinner with his family in Cambridge, Ohio earlier this summer. The dinner was quickly adjourned when the McKivitzes learned that Colton was on the cover of the Athlon Sports Big 12 season preview magazine.
"I was pretty surprised by that," McKivitz said. "You don't expect to see an offensive lineman on the front of something like that."
From dinner, the family drove an hour to Wheeling, the nearest entry point into Big 12 country.
"I think my mom bought about 11 of them," McKivitz said. "A couple people have mailed them in, which is pretty cool."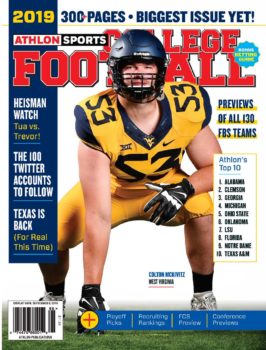 McKivitz said the photo used on the cover wasn't from a planned shoot. It was just a spare from last season's West Virginia media guide.
"I guess [sports information director Mike] Montoro pulled some strings and got me on the cover," McKivitz joked.
In all seriousness, there's a reason McKivitz was picked as the representative of such a traditionally star-powered league. With a strong and healthy senior season, he's seen as a player with first-round NFL Draft potential.
This season gives McKivitz a chance to demonstrate his versatility as he moves to left tackle after three years playing the right side. He said the flip was a challenge this spring, but he's confident he'll have everything down pat for August training camp.
"I never really played left tackle. Maybe four games so far. It is a challenge," McKivitz said. "[My] right side is dominant. You catch yourself because you're so used to doing that. For me it was the repetition of learning it on left."
Who to watch for
Senior cornerback Keith Washington has insider information on some true freshmen who might be able to make an immediate impact for the Mountaineers this season.
Even though corner is one of the most veteran positions on the team – projected starters Washington and Hakeem Bailey are both seniors – he sees newcomers Tae Mayo and Nicktroy Fortune learning quickly during summer 7-on-7 drills.
"I taught them a couple different techniques, but I'm shocked at how willing to learn they are, and how quick they've picked up the scheme," Washington said. "They're not thinking, they're just making plays."
Washington said that fellow senior Josh Norwood has looked good since moving to strong safety from cornerback. The Mountaineers lost two expected starters in the back end of their defense as Kenny Robinson and Derrek Pitts both ended up in the transfer portal.
"We've been doing 7-on-7 all summer. They've been picking up the plays pretty fast and learning the scheme," Washington said. "Now it's just time to put the pads on and take the thing you've been learning inside the drawing board and watching the film, and transitioning it to the field."
Washington has also been playing plenty of attention to who is standing out among the wide receivers.
"Bryce Wheaton has shown flashes of being a real good player. Sam James, of course, has to step up to fill big shoes," Washington said. "And Winston Wright, the true freshman, has made a few plays. Those are some names you should be looking out for."
A new name on the depth chart
Left guard is arguably the least-experienced position on the field for West Virginia this season.
Presumptive starter Mike Brown never played a snap of high school football and has all of four games under his belt collegiately. Brown was able to maintain a redshirt season last year thanks to a new NCAA rule that was passed prior to the 2018 season.
Brown's listed backup on West Virginia's preseason depth chart is junior walk-on Zach Davis. Davis, a 6-foot-2, 308-pound native of St. Marys, W.Va., has two career appearances.
"He's been getting after it in the weight room. He's been working out with some of us older guys," McKivitz said. "A walk-on, their job is twice as hard as us because they didn't get that scholarship. They're working twice as hard to get that opportunity. I know how hard it is to get up on that level."
Briason Mays is listed as the backup to Josh Sills at right guard. At center, Jacob Buccigrossi and Adam Stilley are listed behind Chase Behrndt.
As is the case at multiple positions, those depth charts are subject to alteration by the time West Virginia hosts James Madison on Aug. 31.
Desert island questions
Media day can get fairly monotonous for the players who are invited to participate. With that in mind, MetroNews asked West Virginia's representatives about a more off-the-wall scenario.
The premise? You're stuck on a desert island for a month, but somehow have access to one type of food. And to ward off madness, there's access to one musical artist and one TV show.
Keith Washington
Food: Peanut butter and jelly sandwiches
"The versatility, and it can fill you up. It's always a go-to. It's not too heavy on your stomach. You've got to get up and find a way to get out the desert island."
Music: Drake
"He's got too many hits."
TV Show: Stranger Things
"Lately I've been watching Stranger Things. At first I thought it was kind of weird, but I like it now."
Colton McKivitz
Food: Potatoes
"You can plant potatoes and they'll last you a lot more than a month. I've seen 'The Martian.' That's a good movie. If you can plant them on Mars, you can plant them anywhere."
Musical artist: Kenny Chesney
"I grew up with him. I just loved his music."
TV Show: That '70s Show
"I've seen it about three times all the way through. Kelso is definitely the favorite character."
T.J. Simmons
Food: A cow
"I'd kill the cow. Then I've got steak, burgers."
Musical artist: Kodak Black
"That's my guy. I can listen to him all the time. That's in my pre-game. I've got all kinds of music in my pre-game. Gospel, country music, a little bit of everything."
TV Show: Prison Break
"You can watch it multiple times. You can watch all six seasons and then you don't mind going back and watching it again. Just the way he set up the plan, it's just dope."