CHARLESTON, W.Va. — The beginning of football season has resulted in high handle numbers for the West Virginia casinos.
State Lottery Director John Myers said at Wednesday's Lottery Commission meeting around $16 million has been placed on sports bet, which is referred to as a handle, in the last month.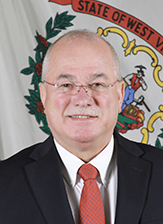 "With the start of football season, the sports wagering handle went up significantly," Myers told MetroNews. "We didn't see a great big jump with the mobile app but we do think it is going to grow."
Hollywood Casino in Charles Town and The Greenbrier in Greenbrier County launched sports betting apps within days of each other around one month ago.
The Mountaineer Casino in Hancock County also offers sports betting but does not have a mobile app.
Myers said the numbers for the first month of the DraftKings Sportsbook (Hollywood Casino) and FanDuel Sportsbook (The Greenbrier) are around $80,000 coming to the lottery but he expects that to grow.
"As people learn how to sign up, what the availability is, see the advertisements out there," Myers said. "I think you are seeing the FanDuel and the DraftKings taking on the education role now in their advertising."
The service providers operate on the 10 percent margin with the money being brought in from sports betting, followed by the lottery getting 10 percent of that.
"They have to pay off the bets, they have to have the services that do the geolocation of the customer, they have to have the services that furnish the spreads. They have a lot more expense," Myers said.
The Lottery Commission also took the following action at Wednesday's meeting:
–received financial numbers from August that show nearly $97 million in revenue including $33.7 million from Limited Video Lottery.
–approved the relicensing of 34 Limited Video Lottery operators.
–approved the change in ownership of Logan County-based Southern Amusement Company to Michael Ferrell.
–set the next regular meeting for Oct. 23.