CHARLESTON, W.Va. — Former Secretary of State Natalie Tennant says she's running for the office again.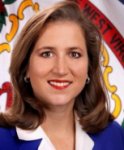 Tennant, a Democrat, was elected to the office in 2008 and 2012.
But in 2016, she was defeated by Republican Mac Warner, the current Secretary of State.
Now Tennant seeks a rematch.
She has been rumored for weeks to be running for the post, which is West Virginia's chief elections officer. She made an announcement, along with a video , late Wednesday evening.
"At this critical time for our state, it is important that our leaders honor the call of public service by taking seriously the responsibilities and trust West Virginians place in them," Tennant stated. "That's why I am announcing I am running to serve as your Secretary of State."
Warner has filed pre-candidacy papers but is not yet listed as declaring for any particular office. Records show his campaign has almost $20,000 cash on hand.
In 2016, Warner defeated Tennant 335,526 votes to 323,750.
A libertarian candidate, John Buckley, got 32,179 votes.
That didn't end the drama between Tennant and Warner.
Once Warner assumed office, about a dozen people who had worked under Tennant were fired. That all resulted in settlements of about $3 million, a topic that recurred for Warner over the first months of his term.